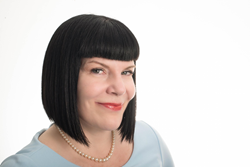 "We can't ignore half of the population for such an important movement – that would be divisive. I'm committed to unifying men and women in the workplace," said Julie Fogg, President of Active Port.
LONG BEACH, Calif. (PRWEB) June 13, 2018
This mixer has been designed to be inclusive and is open to the public. It will take place at the Hotel Maya, Miramar Veranda Room in Long Beach on Thursday, June 14 from 5pm to 10pm.
"We can't ignore half of the population for such an important movement – that would be divisive. I'm committed to unifying men and women in the workplace," said Julie Fogg, president of Active Port.
RSVP FOR THE EVENT WITH THIS LINK.
5:00 pm - MC and Moderator, Jessica Wilzig Gottlieb
6:15 pm – Special guest presentation, Nadya Ichinomiya
6:35 pm – Panel discussion with Stephanie Ardrey, Russell Brower, Kamin Samuel, Heather Mason
7:15 pm Keynote address, Nell Merlino
8:20 pm – Demonstration, Daniel Wiener of Intralinks
8:30 pm - Networking
5-10 pm - Intralinks demonstrations will be available throughout the evening except during scheduled speakers
ABOUT THE $5K GRANT
START OFF WITH THE EXIT GRANT is a one-time $5K seed fund grant that can be applied for exclusively by all men and women attending the event on June 14. A url will be handed to individuals who watch a demonstration of the Intralinks platform to apply. If people in attendance at the mixer don't get a chance to see a live demonstration and still want to apply for the grant, interested applicants can watch a remote demonstration by or before July 31, 2018.
Why was this grant created? Julie Fogg invited Intralinks to do a demonstration of their platform because she started thinking about selling her company, Active Port. One of the triggers for considering selling was her daughter leaving for San Francisco to attend college this year. Everything has a season and an end. Pets, relationships, people and organizations. An end can also be called an exit.
People exit to retire or exit to start solving a new problem when a previous problem has been solved. For example, the keynote address at the mixer is being given by Nell Merlino, founder of Take Our Daughters To Work Day. Nell was successful in taking her vision and making it the reality for many people. Julie Fogg has had her daughter by her side the entire time she's been an entrepreneur and her daughter will be at the mixer watching Nell Merlino speak again, like she's done her whole life growing up.
It is clear that Nell succeeded in solving a problem and now Nell is starting another movement because Nell had what could loosely be described as an exit from Take Our Daughters To Work Day. This is why the Intralinks demo is so important to Julie Fogg: by designing a plan, a product, a relationship and/or a business with the exit from the beginning, win-win boundaries can be planned and followed. Julie isn't being cynical about relationships – people die – and a life that is fulfilling is possible for anyone when planning is done and executed throughout the life of that product/relationship/organization.
"Creating awareness for men and women about new ways of communicating, especially through keeping personal accountability at the front of our minds, will lead to environments with cultures which are respectful and empowering," added Julie Fogg, an entrepreneur since 2002.
Intralinks isn't the only company who supports selling a company or division and people should do their own research when choosing a vendor. Intralinks didn't request to be highlighted as a part of this event. Intralinks isn't a sponsor of this event and didn't pay anything or provide anything beyond time at the event to participate. Julie Fogg felt a sense of personal responsibility to founders at any stage of their career and wanted to let them know how critical it is for individuals to design with thinking: START OFF WITH THE EXIT.
ABOUT FOUR FEMALE FOUNDERS (F3), is a proof of concept program committed to building up women in technology. The F3 initiative is designed to highlight that with a level playing field, women can achieve the same level of success as their male counterparts in a mutually respectful and productive environment. For more information on the FOUR FEMALE FOUNDERS (F3) initiative, please email daniel@sparkicreative.org.
ABOUT ACTIVE PORT:
Julie Fogg, co-founder of Active Port established in 2002, is a company specializing in business communications technologies with a focus on business continuity. Julie is also the founder and chairman of SparkiCreative, a 501(c)3 supporting women, minorities and veterans with economic independence through soft skills, technical training and internships.
ABOUT INTRALINKS:
Panera Bread Company, a North American operator of retail bakery-cafés, used Intralinks in its acquisition by JAB Holdings for US$7.5 billion.