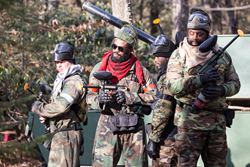 LAGUNA BEACH, Calif. (PRWEB) June 14, 2018
The Sports Fans Connection announced today several new and upcoming events for the launch of their new business. Fans can join pro athletes Michael Vick, Ed "Too Tall" Jones and Brad Castleberry in Vegas on June 23 & 24, driving Sunbuggies through the hot, Vegas sand dunes after a night on the town! Interested in something on the East Coast? Michael Vick, Ed "Too Tall" Jones and Brad Castleberry and their fans can battle it out in an EPIC PAINTBALL COMBAT on July 28th at Skirmish Paintball in Pennsylvania.
The Sports Fans Connection offers sports fans trips, events and activities that they can do "with" their favorite athletes!
Athletes and fans may go to Mexico or on a cruise for a few days, drive a real NASCAR, white water river raft, paintball combat, help the less fortunate, or just hang out at a local restaurant. Fans can actually participate in activities like these "with" the athlete(s). Or the fans can just be a spectator and participate in any "after" activities such as selfies with the athlete, autographs, lunch, contests, giveaways, etc. Athletes may also call or text the fans to invite them to attend a "live video" call, event or trip, or they might fly a fan in to "hang-out" for a portion of the day. The Sports Fans Connection also offers fans the "inside scoop" that may not be known about the athletes, photos and videos not seen anywhere else on the internet, contests, sweepstakes and more.
Fans (18 and older) just need to subscribe to The Sports Fans Connection (http://www.thesportsfansconnection.com), select an athlete and register for upcoming events!
At launch, The Sports Fans Connection has contracted with Michael Vick (former NFL Falcon and Eagle), Ed "Too Tall" Jones (former NFL Cowboy) and Brad Castleberry (pro body builder) to kick off the events. More athletes will be added continually, offering new and exciting activities and events.
To get an idea of the fun and excitement to be had at the events, take a look at the Sports Fans Connection's multi-media page: http://www.thesportsfansconnection.com/PressRelease-6-11-18
For more information, go to: http://www.TheSportsFansConnection.com
Cindy Ferguson
(877) 286-0536
Events(at)TheSportsFansConnection.com