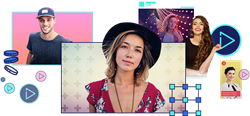 We're excited to take our technology to the next level by opening the platform to any creative individual around the world interested in working with other professionals in a transparent, decentralized manner
TEL-AVIV, Israel (PRWEB) June 14, 2018
Showbox, the leading cloud-based video creation platform, announced today that it is working on the platform's next phase: becoming fully decentralized in order to facilitate a global creative and collaborative community with its own token, SBX.
Showbox was founded in 2013 and has raised over $15M to date from leading private angels. The company has developed a robust video creation engine, simulating all the various elements of a professional studio online using computer vision and deep learning algorithms. The platform puts the building blocks of video creation using elements such as video composition, story lineup, teleprompter and openers to visual effects and titles at users' fingertips. Showbox's platform has over 200K users worldwide as well as leading B2B clients such as the United Nations, Twitch, The London Stock Exchange Group, ZipRecruiter, and more.
The company is currently working on it's next phase, a completely decentralized creative community with its own token: "We're excited to take our technology to the next level by opening the platform to any creative individual around the world interested in working with other professionals in a transparent, decentralized manner", said Amir Zilberman, CEO of Showbox. "By creating our own token and opening the platform to anyone interested in creating or contributing to videos, we will be leveraging the unique opportunities only available in the era of cryptocurrency, such as automatic micropayments with no transaction fees, complete traceability of assets, and fair revenue distribution".
The company has partnered with renowned artist and musician Kutiman, known for his ThruYOU project based on YouTube videos published by different people around the world, which he amazingly mashed into one masterpiece. "Showbox's vision for a collaborative yet completely decentralized platform is an outstanding and important tool for today's generation of creators. I hope it will empower individuals around the world to create more videos and earn more for their work in a transparent way without compromising on recognition," said Kutiman.
Kutiman joins an elite cadre of leading advisors working with Showbox on it's decentralized community, such as Giora Kaplan, co-founder and chief technology officer of Wix; Karl Peterson, TPG Capital senior partner, Prof. Meir Feder, Professor at the School of Electrical Engineering, Tel-Aviv University, Michael Hyman, Senior Vice President of video at Verizon Oath and others.