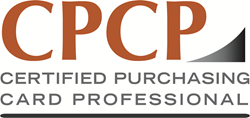 The CPCP credential is awarded to P-Card professionals who have demonstrated experience and understanding of the body of knowledge necessary to administer a Purchasing Card program.
WAYZATA, Minn. (PRWEB) June 17, 2018
Sixteen Commercial Card and Payments professionals received the Certified Purchasing Card Professional (CPCP) credential, after taking the exam in April at the 19th Annual NAPCP Commercial Card and Payment Conference in San Diego, California. These individuals hail from 11 U.S. states, and Canada, and represent the highest standards in the Commercial Card and Payment industry.
Becky Alexander – Newnan, GA
Anne Brown – Lakewood, CO
Estela Castillo – Whittier, CA
Yvonne Dean – Bristow, VA
Tommy Fernandez – New York, NY
Debra Ganley – Fairbanks, AK
Janice Gentry – Knoxville, TN
Avril Henry – Calgary, AB Canada
Kim Hufstetler – Dalton, GA
Melissa Inmon – Starkville, MS
Rebecca Krystopa – Snellville, GA
Regina Miller – Bangor, ME
Kevan Peterson – Los Angeles, CA
Barbara Puls – Essex Junction, VT
Terry Suggs-Zimmat – Lakewood, CO
Natieka Washington – Houston, TX
The CPCP credential is a milestone for Commercial Card and Payment professionals who take ownership of their careers, providing a basis for continued personal and professional growth. It provides documented evidence to a current or potential employer that the individual has been examined by an independent certifying organization and found to possess a mastery of the body of knowledge in the specialized field of Purchasing Cards. Pursuing the credential allows professionals to leverage knowledge and experience into career advancement and improve value to an employer. The CPCP credential also provides a standard of experience and knowledge requisite for certification, thereby assisting employers, the public, and members of the Purchasing Card profession in the assessment of Purchasing Card professionals.
Five scholarships are offered to Commercial Card and Payment end-users by the NAPCP and TD Bank. The scholarship demonstrates TD Bank's commitment to advancing the careers of industry participants. The deadline to apply for the scholarship is June 30, 2018.
The NAPCP is a membership-based professional association committed to advancing Commercial Card and Payment professionals and industry practices worldwide. Serving a community of more than 20,000, the NAPCP is a respected voice in the industry and an impartial resource for members at all experience levels in the public and private sectors. The NAPCP provides unmatched opportunities for continuing education and peer networking through its conferences, Regional Forums, webinars, website, virtual demonstrations, newsletters and regular communication. The association sponsors research and publishes timely and relevant white papers, survey results and other documents.