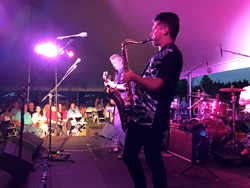 Jazz and wine are a beautiful combination that certainly appeals to all the senses... The intimate performance setting, award-wining wines, tasty food options, along with the wonderful atmosphere created by the staff of Jamesport Vineyards creates a one-of-a-kind summertime experience...
NEW YORK (PRWEB) July 17, 2018
New York Wine Events is pleased to announce its third summer season of Jazz in the Vines at Jamesport Vineyards located on the North Fork of Long Island. The contemporary jazz series is presented by Long Island Wine Country and I Love NY and features shows on Saturdays, August 11, August 25, and September 1. Doors open at 6pm; show time is 7pm.
Amidst lush vines and tall trellises, the Great Lawn at Jamesport Vineyards becomes home to a well-appointed performance space with a spacious tent outfitted with a stage, professional sound and lighting, and concert hall-style seating. Optional food and drink selections include cheese and charcuterie plates, shrimp cocktail, roasted garlic hummus, plus other assorted light bites, and wines by the glass from a selection of more than 10 fine wines from the Jamesport portfolio, all produced on site.
The Jazz in the Vines 2018 summer concert schedule includes:
Saturday, August 11: Jeff Lorber Fusion - 2018 Grammy Award winners
Saturday, August 25: David Benoit and Marc Antoine
Saturday, September 1: Vincent Ingala and Lindsey Webster
"Jazz and wine are a beautiful combination that certainly appeals to all the senses," explains Sam Kimball, founder of New York Wine Events, producers of the series. "We're excited to bring renowned, internationally acclaimed musicians out to the North Fork. The intimate performance setting, award-wining wines, tasty food options, along with the wonderful atmosphere created by the staff of Jamesport Vineyards creates a one-of-a-kind summertime experience, both for the audience and artists alike."
"We enjoy hosting the Jazz in the Vines series," notes Ron Goerler, Jr. master winemaker and owner of Jamesport Vineyards. "These are cultural events that attract a sophisticated crowd that appreciates experiencing world-class musical acts in our vineyard setting. We're look forward to this year's shows and for guests to discover and enjoy our latest vintages."
2018 Grammy® Award winner Jeff Lorber Fusion appears on August 11th. Trailblazing pianist, composer, producer and bandleader Jeff Lorber is a consummate artist who continues to push himself to new plateaus. A groundbreaking Fender Rhodes pioneer along with the likes of Herbie Hancock, Joe Sample and Bob James, Lorber is recognized as one of the most innovative musical minds in contemporary jazz. The multi Grammy-nominated pianist's newest CD, "Prototype" (which garnered the 2018 Grammy® in 2018 in for Best Contemporary Instrumental Album), showcases Lorber's expansive musical roots, masterfully crafted harmonic and melodic sophistication, finger-popping grooves, and intricate rhythmic sense.
The August 25th show marks an historic meeting of two contemporary jazz giants, Grammy® nominated pianist/composer/arranger David Benoit and guitarist/composer/producer Marc Antoine. For three decades, the two jazz icons have scored more than twenty-five #1 Smooth Jazz radio hits, sold over 2 million albums, and toured the world. "So Nice", their new joint album is a perfect blending of the two artists' instrumental styles, combining the cool grooves of Smooth Jazz with the exotic sensuosity of Brazilian music.
One of the fastest emerging contemporary jazz artists in recent history and a Jazz in the Vines fan favorite, Vincent Ingala returns to the Jamesport stage on September 1st along with top vocalist Lindsey Webster. A multi-instrumentalist, composer, and producer known for his energetic performances, Ingala has enjoyed widespread popularity since his 2010 critically acclaimed debut album, "North End Soul." In 2012, he was named Billboard Smooth Jazz Artist of the Year and dubbed Sirius XM Watercolors Breakthrough Artist of the Year in 2013. Consistently hitting the charts, Ingala has amassed three #1 hits on the Billboard Smooth Jazz Chart and six singles in the Billboard Smooth Jazz Top 10. Named Billboard Contemporary Jazz Artist of the Year in 2016 and 2017, Lindsey Webster sings with a rich, soulful style has captivated a dedicated following that connects with the raw emotion she shares with them. As a Soul R&B artist, Webster combines her strong natural talent with a genuine, accessible stage presence.
Jazz in the Vines is among the various events New York Wine Events presents throughout the year in the New York metro area. The summer concert series takes place rain or shine, with a tent protecting guests from the elements. Advance ticket purchase is highly recommended.
Tickets for Jazz in the Vines are on sale now. Ticket prices vary, ranging $40-$60, based upon show and seat location. Check the web site for details on Up Front Seating sections, General Admission seating, and available food and wine options. All ticket levels provide a guaranteed seat. Jamesport Vineyards is located at 1216 Main Road (Route 25) in Jamesport, New York. Ample, free on-site parking is available.
For more details or to purchase tickets to any of the Jazz in the Vines shows, visit NewYorkWineEvents.com.
About New York Wine Events
New York Wine Events is committed to bringing together New York Metropolitan area wine, food, and music lovers, whether at one of our annual wine festivals and entertainment events, or by browsing our web site to located the best Tri-State food and drink events. Visit NewYorkWineEvents.com.
About Jamesport Vineyards
Jamesport Vineyards is a father-son collaboration that began in 1986 making it one of the North Fork's oldest vineyards. A 165-year-old barn houses the winery and tasting room. The great lawn out back provides the perfect setting for people to gather and enjoy good wine, live music and light fare. In the vineyard, Ron Goerler Jr. continues to ensure the vineyard plantings produce the highest quality of fruit available in the region today. The Goerler Family has seen their 35-year commitment to winemaking result in world-class wines. Visit JamesportWines.com.