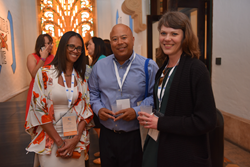 BERKELY, CA, (PRWEB) June 18, 2018
Diversity Abroad is excited to announce the release of data from the 2018 Survey of Diversity & Inclusion Among International Educators. For more than 10 years, Diversity Abroad has been working to provide tools and resources that advance access, diversity, equity, and inclusion in international education and cultural exchange, and has sought to continue these efforts by collecting data about the demographic composition of international education professionals, shedding light on who we are - our social identities, backgrounds, experiences, salaries and much more.
"There is much to gain from having greater insights into the backgrounds, identities, current working conditions, climate and culture of the professionals who drive international education," said Andrew Gordon, CEO & Founder of Diversity Abroad. "Beyond our work with students, international education professionals possess the skills to effectively advance diversity, equity, and inclusion. Learning about this population can deepen the way we recruit, support, retain, and advance all professionals working in this field, including those from diverse backgrounds."
According to the survey, which bolstered 555 respondents, the race and ethnicity of the professionals in international education mirror the present demographic profile of students in education abroad in the United States. Specifically, 71% of the survey respondents identified as White while 29% Black/African American, Hispanic/Latinx, Asian, Middle Eastern/Arab or multiracial. Notably, no survey respondents identified as Native American/Native Alaskan or Pacific Islander/Native Hawaiian. Of the respondents, 79% identified as women, 20% identified as men, and 0.2% identified as transgender.
Data collected on salary range was disaggregated by gender and racial/ethnic identification. While most respondents reported salary earnings between $40,000 and $100,000, the distribution is different for men and women, and slightly different for respondents who identified as white compared to those who identified as Asian, Black/African American, Latinx, Middle Eastern/Arab, or two or more races. According to the survey, 52% of male respondents reported earnings of $60,000+ as compared with only 36% of female respondents. Additionally, 19.3% of respondents who identified with historically underrepresented ethnic/racial groups reported a salary range below $30,000 compared to 12.8% of white respondents.
The majority of the survey respondents (85%) identified as heterosexual or straight, while 5% identified as gay, 4% bisexual, 1% lesbian, and 4% other. Additionally, 52.3% identified as millennials (born between 1980 and 2000) and 34.3% identified as being part of Generation X (born between 1965 and 1979). Most participants, (79%), do not identify as having a disability or impairment, however, mental health conditions were the most frequently reported disability or impairment (10.8%).
The majority of participants (78.4%) agreed or strongly agreed that their institution or organization viewed supporting diverse and underrepresented students in education abroad as priority. Participants were provided a space to share what they believe are high priority areas and emerging trends in access, diversity, inclusion, and equity. Qualitative data revealed the types of resources that would better support diverse students in global education. Respondents frequently mentioned limitations including inadequate staffing level for international education offices, the need for more inclusive hiring practices and resources to better support program goals, especially for target groups (e.g., low-income, racial/ethnic, LGBTQI+ and first-generation college students).
The results of the survey present an opportunity for the field of international education to examine in a substantive way how the practices, policies, and the culture of international education offices or organizations supports diverse professionals entering the field. It also has implications for how we retain diverse talent and provide them with the tools, strategies, and skills to succeed and thrive in the profession. Further, as the student population in the U.S. becomes more diverse, international educators from all backgrounds will need to equip themselves with the knowledge, training, and resources to increase access to and adequately support the success of all students in global education.
To access the full report, go to: https://www.diversitynetwork.org/page/Research_Reports
About Diversity Abroad
Diversity Abroad is the leading consortium of educational institutions, government agencies, businesses, and non-profit organizations who share its vision that the next generation of young people from diverse and underrepresented backgrounds are equipped with the skills, knowledge, and global acumen to thrive in the 21st century global marketplace. Together, Diversity Abroad and its partners achieve this vision by advancing diversity and inclusive policies and practices in the international education field and by connecting diverse students to resources and educational and career opportunities.