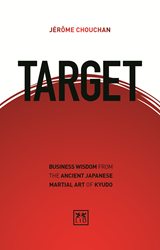 Profit is not a goal, it is a reward for doing the right things. Chouchan's entertaining book brings this lesson home through merging Japanese wisdom with contemporary business practice — Kyudo archery with Godiva chocolate. What's not to enjoy? -Rohit Deshpande, Harvard Business School
NEW YORK (PRWEB) June 18, 2018
Under the leadership of CEO Jérôme Chouchan, Godiva Japan doubled its revenue in just five years, quickly becoming Godiva's number one market worldwide, both in sales and profit. In an increasingly volatile age and relatively flat chocolate market, many have asked what type of business strategy and leadership style made it possible to achieve such astounding results. Chouchan's answer? Japanese archery, traditionally known as Kyudo.
In his debut book titled, "Target: Business Wisdom from the Ancient Japanese Martial Art of Kyudo" (LID Publishing, 2018), management expert and Kyudo instructor Jérôme Chouchan presents a unique approach to business and life, taking inspiration from the hard-won wisdom gained from his 25-year practice in global management and Japanese archery.
In his introduction, Chouchan eloquently explains that Kyudo, which translates in English as the "Way of the Bow," is guided by a profound principle that's been passed down from generation to generation: "Right shooting always results in a hit." This means that you do not need to worry or think about hitting your target. Instead, you should focus your energy and willpower on a suitable mindset and form, and as a result of "correct shooting," this will naturally result in a hit. When applied to business, if you sincerely care about your customers and focus your efforts on customer satisfaction, as opposed to sales and profits, positive financial results will follow.
Chouchan clearly demonstrates the application of this business philosophy through three succinct parts titled, "Principles for Hitting Your Target," "Business in the Land of Japan" and "How to Make Your Work Meaningful and Enjoyable." Chouchan summarizes his overarching goal of the book with great clarity, stating, "I want to show that business can be both successful and spiritually meaningful when it is practiced with a mindset that has a deeper goal than sales and profit." He adds, "It is gratifying for me to know that readers of 'Target' will gain insights that demonstrate a different way of approaching business."
Target delivers in a unique way a vision of ethical business that capitalism needs in this turbulent age.
"Target" is available for pre-order on Amazon, Barnes & Noble and IndieBound (hardcover, retail price: $24.95) and will be released for sale in the US on July 17, 2018.
Advance praises for "Target" include:
"This book is unique and refreshing. It shows that noble purpose, right-mindedness and proper form matter. In both Japanese Kyudo and global business, the proper mindset embodied by constant practice leads to hitting the target in a sustainable and meaningful way. Highly recommended." -Marshall Goldsmith, Thinkers50 World's #1 Executive Coach, #6 Most Influential Business Thinker 2017
"Profit is not a goal, it is a reward for doing the right things. Jérôme Chouchan's entertaining book brings this lesson home through merging Japanese wisdom with contemporary business practice — Kyudo archery with Godiva chocolate. What's not to enjoy?" -Rohit Deshpande, Professor of Marketing, Harvard Business School
About Jérôme Chouchan:
Jérôme Chouchan is the President of Godiva Chocolatier for Japan, South Korea, Southeast Asia, India, Australia and New Zealand. He has extensive management experience in Japan and Asia, having worked for premium global brands such as Lacoste, Hennessy and Lladro. He has a master's degree in management from the Grand Ecole HEC Paris. Chouchan has practiced Kyudo in Japan for more than 25 years and holds a Kyudo Renshi (instructor license) and a 5th dan degree. He is also a Board Director of the Kyudo International Federation, the body governing the development of Kyudo globally. He published "Target" in Japanese in 2016. Visit: https://www.linkedin.com/in/jerome-chouchan-24b4bb5/
About LID Publishing:
LID Publishing specializes in working with business authors and organizations to help them develop content to promote their brand, message and expertise. Founded in 1993, LID has over 1,700 authors and continues to add approximately 120 new titles each year. Visit: http://lidpublishing.com/