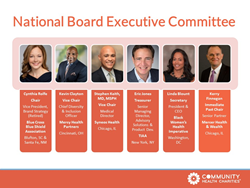 "It is strategic, experienced leaders like these who will help our organization continue to advance and address important work, like social determinants of health and health disparities."
ALEXANDRIA, Va. (PRWEB) June 19, 2018
Community Health Charities recently elected an impressive slate of incoming officers to lead the National Board and achieve the organization's new mission to empower people to take action to improve health and wellbeing.
"I could not be more proud to serve alongside these visionary leaders," said Cynthia Rolfe, national board chair, Community Health Charities. "Each officer brings career experience and personal commitment to health and well-being. All the board members are honored to help Community Health Charities ensure our partners can build healthier communities far into the future."
National Board leadership includes:
Cynthia Rolfe, who recently retired as Vice President of Brand Strategy for the BlueCross BlueShield Association (BCBSA), and was elected Board Chair. The Blue System is the nation's largest health insurer, covering more than 105 million people and the largest single processor of Medicare claims. Previously, Ms. Rolfe led brand and marketing efforts for Alberto Culver, Revlon, Bristol-Myers Squibb, and Procter & Gamble, and graduated from Brown University.
Stephen Keith, MD, MSPH, Medical Director for Syneos Health, and a Fellow of the Academy of Pediatrics and a Diplomate of the American Board of Pediatrics, was re-elected Vice Chair. Dr. Keith has held c-suite leadership positions with numerous health organizations, including as CEO of Vivacelle Bio, Inc., and Chief Business Development and Medical Officer at Evanston Technology Partners, a Chicago-based IT marketing and sales firm focused on cyber security solutions. Dr. Keith completed his undergraduate degree from Amherst College, Masters in Science at UCLA, and M.D. degree at the University of Illinois.
Kevin Clayton, Chief Diversity & Inclusion Officer, Mercy Health, was elected Vice Chair. Mr. Clayton previously served as Chief Diversity Officer for the United States Tennis Association, National Vice President of Diversity and Inclusion for American Cancer Society, and Corporate VP of Diversity for Russell Corporation. Mr. Clayton holds a B.S. in business administration and management from Wilmington College.
Linda G. Blount, President & CEO of Black Women's Health Imperative, was re-elected Secretary. Ms. Blount previously served as Vice President for the United Way of Greater Atlanta and the first-ever National Vice President of Health Disparities at American Cancer Society. Ms. Blount holds a Master of Public Health in Epidemiology from the University of Michigan and a Bachelor of Science in Computer Engineering/Operations Research from Eastern Michigan University.
Eric T. Jones, Senior Managing Director, Advisory Solutions & Product Development, TIAA Investment Advisory Services, was re-elected Treasurer. Mr. Jones leads TIAA's retail advice and discretionary investment management capabilities, and is the co-author of three books on the financial markets and trading: Hedging Foreign Exchange, Mind Over Markets, and Markets in Profile. Mr. Jones graduated from Pennsylvania State University with a B.S. in Finance.
Kerry Finnegan, Senior Partner, Mercer Health & Wealth, also will serve on the executive committee as immediate past chair. Mr. Finnegan is responsible for the global management of Mercer programs, partnerships, budgets and overall business strategies with 200 insurers and other providers. He graduated from Northern Illinois University.
"The caliber of these officers is unparalleled," said Thomas G. Bognanno, Community Health Charities president and CEO. "It is strategic, experienced leaders like these who will help our organization continue to advance and address important work, like social determinants of health and health disparities, while empowering individuals to improve health, and building our nonprofit partner capacity. We could not be more proud of our talented board leadership and their deep commitment to serve not just our organization but the nonprofit community and the country."
About Community Health Charities
Community Health Charities has been empowering people to take action to improve health and wellbeing for over 60 years, by raising awareness and resources for health and wellness. Community Health Charities supports education, treatment, and prevention for those with health challenges; brings organizations together to improve community health; provides individuals with opportunities to get involved; and increases the capacity of nonprofit organizations.