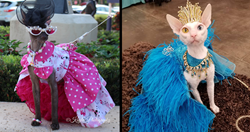 EDISON, N.J. (PRWEB) June 20, 2018
Garden State Cat Show & Expo, presented by 1TDC.com, will celebrate it's 82nd year on July 21st and 22nd, at the New Jersey Convention and Exposition Center at the Raritan. Calling all cat lovers, this fun-filled family event will feature more than 50 pet and cat related exhibits, along with some unique entertainment and educational activities, including the following:

Steve Nyman Caricaturist: Back by popular demand, Steve Nyman can create a memorable portrait of you, your pet or the entire family. The Garden State Cat Club is thrilled to feature this world renowned artist. If you are showing your cat – you can bring that special feline for an "in person" sitting. Come sit in his chair and let him capture you on paper – or bring a photo of your pet or family and you will have a keepsake to treasure forever.
Cat Show: Watch 300+ pedigreed cats and household pets compete for rosettes. Many of the cats shown here will go on to be regional and national winning cats. Ambassador cats will be roaming the show hall and available to be pet.
Noah's Ark Cat Workshop: Bring your kids to our teddy bear workshop. There are lots of plush pals to choose from: bears, puppies, penguins and more. Each child hand stuffs their own new pal, makes a wish on a rainbow star and tucks it inside their new friend. The teddy bear workshop includes dressing the animal, naming it with a birth certificate and then taking it home.
Fashionista Cats: Kathy Pritchard of Kaylee Cornish Rex, will be joining us this year with her Ambassador Cats. Kathy has over 200 designer cat outfits, which her and her cats will happily show off a large selection for our visitors. Come take photos with the cats, and see for yourself how amazing they look!
Gina's Facetag & Body Art: Become a cat, dog or any of your favorite characters! Professional artist, Gina R, creates amazing designs with face paint and glitter tattoos! Faces and tattoos run from $6-$10, and part of the proceeds go back to our supported rescue and shelter organizations.
Feline Agility: Loads of fun! Enter YOUR cat! Watch fleet-footed Household Pets and pedigreed cats run through a course of obstacles, competing for the fastest time and prizes. Watch a video on how it's done: http://agility.cfa.org.
Meet-the-Breeds: Did you know there are over 43 types of cat breeds? Come meet most of them and learn how different they are both in personalities and habits. CFA Judge Sharon Roy, one of the CFA(Cat Fancier's Associations) most respected experts on all the breeds of cats, will be on hand to answer questions and present the many breeds. She will present twice a day – please see the schedule on the website.
Adopt-a-Cat: More than 12 rescue organizations will be represented with cats and kittens available for adoption. Bring home a new family member at this year's show.
Shopping: With almost 50 vendors, this show is a great place to find special & unique items for cats or the "purr-fect" gift for cat lovers. You won't find some of these items anywhere else!
Emergency Preparedness and CPR: Somerset County Animal Response Team will be distributing information and Steve Ross, certified CPR instructor, will demonstrate how to save a cat or a dog.
Raffle Table and 50/50: Try your luck for a few dollars and win fabulous prizes at one of the largest raffle tables or win cash from the 50/50.
Show hours are 10am-4pm on Saturday, July 21st and Sunday, July 22nd. Admission is $12 for Adults, $7 for Children under 12 years old, $10 for Seniors and $30 for Family (4 people max., 2 Adults). Tickets sold at the door only. For more information, please visit http://www.GardenStateCatExpo.com
ABOUT GARDEN STATE CAT CLUB:
GARDEN STATE CAT CLUB, organized in 1936, is the third oldest cat club affiliated with CFA (Cat Fancier's Association). The objectives as stated in the constitution are:
1. To promote the welfare of all cats. To create interest in, and knowledge of cats by the staging of shows, seminars, educational presentations and interaction with the public and other organizations having similar objectives.
2. To cooperate with and provide financial support to feline research and welfare facilities.
3. To encourage proper care and responsible ownership of all cats.
4. To encourage and cultivate friendships through social and cat show-related activities.
The Garden State Cat Club is a registered not-for profit organization which contributes to animal welfare and feline health organizations as funds permit. We also monitor legislative issues that may impact on pet ownership and the breeding of pedigreed cats.
Learn More at http://www.GardenStateCatExpo.com
Facebook: http://www.facebook.com/TheGardenStateCatClub/
Twitter: @GSCatClub