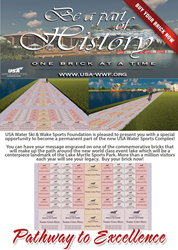 POLK CITY, Fla. (PRWEB) June 18, 2018
Because we recognize the impact this facility will have on the future of water sports and the greater Polk County community, we want to offer you the opportunity to put your name on this project. Literally! Our new Legacy Brick program provides an affordable way for all sports fans to become a permanent part of history as the USA Water Sports Complex expands the vision of the Lake Myrtle Sports Park making it a one of a kind destination in the world and a showcase of Polk County's sporting heritage and focus on our youth.
You can have your name, team, company or message engraved on one of the commemorative bricks that will be installed along the trail surrounding the new world class event lake -which will be a centerpiece landmark at the Lake Myrtle Sports Park. The lake will be completed this summer.
We are committed to developing first class facilities where our skiers, riders and water sports enthusiasts can practice and compete, and which will also provide enjoyment for our community, friends, fans and youth. The brick campaign will contribute directly to enhancing these facilities and ensuring a superior experience for athletes and fans alike. A personalized brick can make a wonderful gift for any special occasion.
More than a million visitors each year will see your legacy for decades! We have four size options! Buy your brick now. Prime locations will be on a first come, first serve basis.
The bricks/tiles that have adorned the "Wall of Fame" area for nearly 20 years at the old Water Ski Headquarter location at Holy Cow Road in Polk City are forever memorialized on the world wide web at http://www.usa-wwf.org on a special "In Appreciation" page.
We thank you for your support and we are proud to provide Polk County, the City of Auburndale and the Water Ski & Wake Sports Community at large an amazing legacy that will impact generations to come. We invite you to be part of that legacy! Questions about the brick campaign can be directed to (863) 324-2472 or usa-wwf@waterskihalloffame.com.