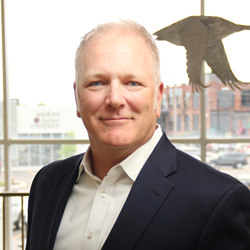 Clint is a strong match with our company's core values, culture, and our continued focus on delivering excellent services and solutions for our partners and clients.
Rochester, NY (PRWEB) June 20, 2018
Top catering management company, CaterTrax, appointed Clint Tyler as Chief Operating Officer, effective May 2018. Clint is responsible for the client-facing operational organizations within the company, overseeing existing client-facing CaterTrax leadership team members. CaterTrax looks to leverage Clint's strong background in technology leadership to maximize the value every client receives from CaterTrax products and services.
"Clint is a strong match with our company's core values, culture, and our continued focus on delivering excellent services and solutions for our partners and clients. He brings his expertise in client relations and a strong set of operational and technology experiences, including Quality Assurance, Program Management, Technology, and Operations Leadership. We are excited to add Clint's leadership to the team, and look to leverage his years of experience as we continue to better enable those we serve. " said CaterTrax CEO, Jeff Luchetti.
Prior to joining CaterTrax, Clint was an Executive Director in the Chief Administrative Office at JP Morgan Chase & Co., serving as the Global Head of the Operations Analyst Development Program and accelerating the productivity of several hundred analysts across the business. Clint has held Vice President and Director titles spanning multiple functional areas within global financial services including technology, operations, and finance. He has extensive experience delivering large-scale merger, acquisition, and integration programs, and has led small and large teams in direct and matrix environments.
"CaterTrax's success has been built on a culture of hospitality and bringing the customer experience to the forefront of every conversation. As I've gotten to know the team, it has become apparent, that those values are deeply embedded in our operating model and I'm excited for the opportunity to continue driving our mission. I look forward to building and growing the relationship with our clients and partners, focusing on their challenges, and harnessing the CaterTrax community to drive value into the solutions," Clint shared.
About CaterTrax
CaterTrax Inc., a business unit of Volaris Group, is an industry-leading catering management software company that was built by caterers for caterers. Primarily serving the non-commercial foodservice industry, CaterTrax Inc. provides flexible solutions to multi-unit contractors across the United States and Canada, streamlining enterprise management for the largest managed hospitality providers in the country. Affectionately referred to as TRAXERS, over 20,000 operators, across multiple lines of business, use CaterTrax's TRAX Platform to manage their business. Read their stories here.
About Volaris Group
Volaris acquires, strengthens, and grows vertical market technology companies. As an Operating Group of Constellation Software Inc., Volaris is all about strengthening businesses within the markets they compete and enabling them to grow – whether that growth comes through organic measures such as new initiatives and product development, day-to-day business, or through complementary acquisitions. Learn more at http://www.volarisgroup.com.