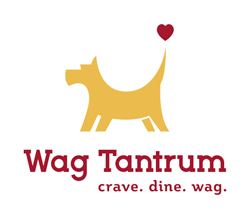 "Dogs are loyal and always do right by us, so we firmly stand by the belief that we should do right by them," said Marshall. "We believe in the ethical treatment of animals and want to offer them the best dog food possible with nutrients that will enhance their lives."
HOUSTON (PRWEB) June 19, 2018
Wag Tantrum, an organic dog food line made in Houston, announces the launch of its brand-new online store at wagtantrum.com. The human-grade pet food brand features wholesome blends that provide dogs with the nutrients they need along with the flavor they love. By combining organic ingredients into convenient serving sizes and offering shipping directly to customers in the U.S., Wag Tantrum gives owners an easy approach to a high-quality solution.
"Although people love and want the best for their dogs, the products on the market don't reflect that," said Barbara Marshall, Co-Founder of Wag Tantrum. "I wanted to make the recipes I created available through an online shop to anyone who saw a need for it. Often times owners get fed up with the products that are available and set out to make homemade dog food, but their pets end up missing out on key nutrients that are crucial to a balanced diet."
The company currently offers two products – Adult Wag and TheraWag, both an organic wet dog food. Adult Wag is formulated for active, adult dogs, and TheraWag, which requires a veterinarian prescription, is a high-protein dog food formula designed for dogs recovering from surgery or illness. Each formula contains nutritious, real ingredients specifically curated for dogs. Customers can conveniently shop online through the Wag Tantrum website and have the product delivered directly to their door, packaged to ensure the human-grade wet dog food stays frozen for optimal freshness.
To bring Wag Tantrum to dog owners, Marshall banded with Co-Founder Lisa Marshall. The pair sought out and partnered with top animal nutritionists to ensure their product not only meets, but also exceeds the standards of the Association of American Feed Control Officials (AAFCO), and is a vet recommended dog food. Organic meat, vegetables and rice from U.S. farms are combined and cooked to perfection. Next, the proper vitamins and nutrients are added, and the food is quickly frozen to retain its nutritional values and fresh taste.
The story behind the line's origin begins when Marshall first formulated the organic dog food recipe for her Boxer, Lily. Marshall's puppy faced a devastating diagnosis of stage-two ear cancer before she was six months old. Lily also dealt with a sensitive stomach, and often refused to eat traditional dog food. After extensive research, Marshall found that there was little offered in the market that not only met Lily's needs while she was healing, but even as a healthy dog.
"Dogs are loyal and always do right by us, so we firmly stand by the belief that we should do right by them," said Marshall. "We believe in the ethical treatment of animals and want to offer them the best dog food possible with nutrients that will enhance their lives."
ABOUT WAG TANTRUM:
Founded and made in Houston, Wag Tantrum offers organic, human-grade dog food featuring fresh ingredients with proven clinical results. Wag Tantrum believes that pets are family, and deserve a balanced and healthy diet for a long, happy life. For more information, please visit wagtantrum.com.