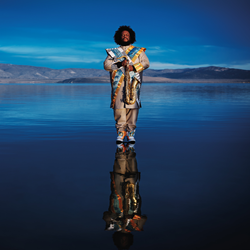 FAIRFIELD, Conn. (PRWEB) June 19, 2018
Fairfield Theatre Company FTC is excited to present Kamasi Washington — hailed as a primary architect of a West Coast jazz revival — in The Warehouse on Thursday, June 28.
Washington is the most talked-about musician in mainstream jazz. The Los Angeles saxophonist is in a movement making the electric flurry of 70s fusion jazz cool again. His lush, bustling arrangements can be heard on both Flying Lotus' "You're Dead" and Kendrick Lamar's "To Pimp a Butterfly."
In 2015, post-bop jazz pioneer Washington released a studio album spanning three volumes that clocked in at 170 minutes and was aptly named "The Epic." This critically-acclaimed debut followed years of collaboration with and playing for the likes of Thundercat, Kendrick Lamar, Erykah Badu, and Snoop Dogg. Now, the genre-bending bandleader hits the road in support of the highly-anticipated follow-up "Heaven and Earth," a double-album featuring backing band West Coast Get Down, choir, and strings. This new album is out June 22.
As said by the New York Times, "Washington is a tenor saxophonist who has emerged as the most-talked-about jazz musician since Wynton Marsalis arrived on the New York scene three decades ago."
Straddling both the old and new schools of jazz, Washington combines the soulful jazz of John Coltrane and the 70s fusion of Miles Davis and Weather Report with neo-soul, an ambitious, expansive arranging style, slick production and an ear for melody. As such, his live shows are whirlwinds of virtuosic technique and relentless rhythms that take the listener on a mind-expanding journey through time and space. Jazz may often be seen as a dying art form, but Kamasi Washington breathes new life into the institution.
The Guardian claims that "Washington has earned comparisons to John Coltrane, Pharaoh Sanders and Sun Ra. Like those jazz greats, his work sometimes seems like it was beamed in from another dimension."
Is spiritual jazz-pop music? It is now.
Visit http://www.fairfieldtheatre.org for trailers and ticketing information.
About Fairfield Theatre Company:
Fairfield Theatre Company is a highly-acclaimed non-profit performing arts organization located in the heart of downtown Fairfield. FTC presents over 300 concerts and events each year featuring outstanding national talent at FTC's StageOne and at The Warehouse. FTC's venues are widely recognized as being the best places to see live performances in the region. FTC's mission is to connect and enrich the community through the transforming power of the arts. For more information, go to fairfieldtheatre.org/warehouse/press