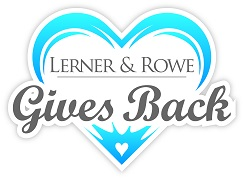 The supportive services Soldier's Best Friend provides combat-injured veterans are extremely beneficial. - Kevin Rowe, ESQ.
PHOENIX, Ariz. (PRWEB) June 19, 2018
Lerner and Rowe Gives Back announces their agreement to match up to $4,500 for a fundraiser that will directly benefit local Veterans living with combat-related post traumatic stress disorder (PTSD) or traumatic brain injuries (TBI). All funds raised during KSLX radio personalities Mark and Neanderpaul's week long 4 Pets for Vets promotion will be given to Soldier's Best Friend to cover costs of pairing four specialty-trained dogs to four veterans at no cost to them. Donations can be made online at kslx.com/4-pets-for-vets.
Most of these service or therapeutic companion dogs are found at local animal shelters. The dogs are then trained and paired with a veteran to help with readjustment challenges and symptoms often triggered by a return to civilian life. Team training between a veteran and dogs takes an average of 6-9 months to complete. Associated cost equal $4,500 per dog.
"As a personal injury attorney, I have seen first-hand the long-term emotional and mental effects that can result from a traumatic event and life-altering injury. Which makes the supportive services Soldier's Best Friend provides combat-injured veterans extremely beneficial. Add in the fact that the organization also saves the life of a shelter dog, the good work the organization does becomes even more admirable," stated Kevin Rowe, ESQ.
More and Lerner and Rowe
For additional information about Lerner and Rowe's Phoenix personal injury attorneys call (602) 977-1900. To learn more about Lerner and Rowe Law Group, call (602) 667-7777 or visit lernerandrowelawgroup.com. In addition, do you need help filing an application or appeal for Social Security benefits? Then contact the law firms other legal partners at Social Security Disability Advocates by calling (602) 952-3200 or online at socialsecuritydisabilityadvocatesusa.com.
To connect with the law firm socially, follow Lerner and Rowe on Twitter, or become a fan of their Facebook page. Also visit lernerandrowegivesback.com to learn more about the community services that the lawyers and legal support team of Lerner and Rowe actively support.