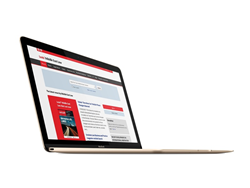 "The project is unique, innovative, and the first of its kind in the region. We aim at advancing the rule of law while creating a complete practical encyclopaedia covering the entire GCC region," Hussain Hadi, Head of LexisNexis Middle East Publishing
DUBAI, United Arab Emirates (PRWEB) June 21, 2018
On Wednesday, 27th June 2018, LexisNexis Middle East will reveal its latest innovative editorial content, Gulf Legal Advisor. The ground-breaking ceremony will take place in the Monogram Room of the Four Seasons Hotel – Dubai International Financial Centre (DIFC), from 6:00pm to 8:00pm.
As part of a two century-old tradition of creating and publishing the best legal content possible, LexisNexis has always championed the cause for access to legal information, the advancement of the rule of law and major innovations within the global scientific legal community.
LexisNexis is very proud to launch this new practical guidance solution, available exclusively on Lexis Middle East Law (http://www.lexismiddleeast.com): Gulf Legal Advisor.
This innovative tool is tailor-made to the GCC and offers legal professionals of all walks the opportunity to browse through hundreds of "Practice Notes", providing concise and practical guidance on legal questions.
Practice Notes are short and concise documents, 4 to 6 pages "maximum facts minimum words", to help users find the information they need quickly on a given legal topic, along with direct links to all relevant legislations, cases and commentaries. A Practice Note consists of (i) a short introduction, (ii) key legal definitions specific to the practice area and (iii) a practical guidance section that delves into the issue at hand. In all Practice Notes are included a customised relevant content and a short paragraph on how the same topic would be dealt with in a Common Law jurisdiction. Gulf Legal Advisor authors are multi-jurisdiction legal practitioners and experts who have acquired an international reputation in providing a full range of legal services across the Middle East.
The ground-breaking ceremony will be the occasion to celebrate the completion of the first 200 Practice Notes. Attendees will have the opportunity to hear the latest insight into the changes facing in-house legal teams from prominent legal experts, get a first glimpse of the new practical guidance solution developed by LexisNexis, find out how Gulf Legal Advisor will enhance the daily productivity of the legal community, and honour the Gulf Legal Advisor Inaugural Contributors and Expert Board members. Finally, they will be able to share their thoughts and network with legal professionals, practitioners and academic researchers from across the GCC region.
"The project is unique, innovative, and the first of its kind in the region. We aim at advancing the rule of law while creating a complete practical encyclopaedia covering the entire GCC region," asserts Hussain Hadi, Head of LexisNexis Middle East Publishing. More than 2000 Practice Notes are expected to be published in less than a year, covering 16 areas of legal practice (Arbitration, Banking & Finance, Commercial, Corporate, Dispute Resolution, Employment, Energy, IP & IT, Construction & Infrastructure, Real Estate, Financial Services, Insolvency, Transports, Tourism & Travel, and Public Law) in the six GCC countries (UAE, KSA, Bahrain, Kuwait, Qatar, Oman), to make of GLA the ultimate guide to help lawyers in their everyday legal practice.
About LexisNexis Legal & Professional
LexisNexis is a leading global provider of content-enabled workflow solutions designed specifically for professionals in the legal, risk management, corporate, government, law enforcement, accounting, and academic markets.
LexisNexis encompasses authoritative legal publications and services dating back to the 19th century including: the All England Law Reports and Halsbury's Laws in the United Kingdom, the JurisClasseur encyclopedia in France, and lexis.com, Shephard's and the Matthew Bender portfolios in the US. Through the integration of information and technology, LexisNexis uniquely unites proprietary brands, advanced Web technologies and premium information sources. We provide customers across the globe with access to billions of searchable documents and records from more than 45,000 legal, news and business sources.
About LexisNexis Middle East
LexisNexis Middle East operates from Dubai Media City, with support from London and Paris offices. Through a strategic partnership with Sader Legal Publishing LexisNexis has also dedicated translation and research teams in Beirut and Amman. An experienced team of editors constantly provide legal professionals with legal information of the highest level. LexisNexis Middle East is the publisher of the Lexis Middle East Law online platform (http://www.lexismiddleeast.com), the MENA Business Law Review, the Lexis Middle East Law Alert and the organizer of numerous events and training such as UAE Civil Code Bridge Series or the first UAE Mock Trials.
About Lexis Middle East Law
Drawn from over 300 regional sources, Lexis Middle East Law (http://www.lexismiddleeast.com) provides a wide range of carefully selected legislation and regulations from official gazette releases in English and Arabic, as well as decrees, cases, commentaries, topical articles and an exhaustive list of Q&A solutions, that are updated regularly, allowing subscribers to be at the forefront of what is going in the legal industry. Lexis Middle East Law is updated on a daily basis ensuring that lawyers and in-house counsel are kept informed of the latest legal news and developments.