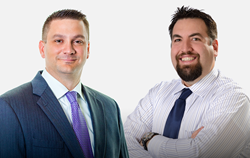 I have every confidence that Thomas will continue to lead all of our traffic engineering groups as adeptly as he has in the Houston office. — Jennifer Peek, Director of Infrastructure
HOUSTON, Texas (PRWEB) June 20, 2018
International engineering firm Walter P Moore announces two key promotions within the firm's Infrastructure Group, which encompasses civil and water resources engineering; traffic, Intelligent Transportation Systems (ITS), and transportation engineering; and transportation planning.
Thomas Duncan, P.E., PTOE has been promoted to Director of Traffic Engineering Services, responsible for overseeing the firm's traffic groups located in Houston, Dallas, El Paso, Kansas City, Washington, D.C., and Pune (India). He formerly served as the Managing Director of Traffic for the firm's Houston office.
Having joined Walter P Moore in 2015, Thomas has more than 16 years of engineering experience in traffic design, analysis, planning, and operations for various local governments, highway departments, and metropolitan planning organizations. A Principal of the firm, Thomas has successfully managed numerous complex projects encompassing data collection and forecasting, traffic simulations, and the design, planning, and development of road realignments, and rail crossings.
"I have every confidence that Thomas will continue to lead all of our traffic engineering groups as adeptly as he has in the Houston office. His promotion has made my own recent role transition a seamless one," said Jennifer Peek, Executive Director of Infrastructure for Walter P Moore (who transitioned from Director of Traffic Engineering Services earlier this year).
Victor De la Garza, P.E. has been promoted to Managing Director, El Paso Traffic/ITS Engineering Services, responsible for managing operations and staff for Walter P Moore's El Paso office and continuing as a primary point of contact for clients. This new role expands on his former role, which focused solely on the El Paso office's ITS group.
Victor joined Walter P Moore in 2008, following a ten-year career at the Texas Department of Transportation (TxDOT). He is an Electrical Engineer with vast experience on traffic management projects encompassing ITS planning, design, deployment, integration, operations, and maintenance. A firm Principal, Victor holds a patent on methods for detecting and tagging changes in software test patterns.
Said Mark Conway, P.E., Director of ITS Engineering for Walter P Moore worldwide, "Victor is a very talented and innovative engineer who's successfully led our El Paso ITS team for several years. I know he will continue to accomplish great things in his expanded role."
About Walter P Moore
Walter P Moore is an international company of engineers, innovators, and creative people who solve some of the world's most complex structural and infrastructure challenges. Providing structural, diagnostics, civil, traffic, parking, transportation, enclosure, and construction engineering services, they design solutions that are cost- and resource-efficient, forward-thinking, and help support and shape communities worldwide. Founded in 1931 and headquartered in Houston, Texas, Walter P Moore's 600+ professionals work across 18 U.S. offices and five international locations.
Editor's Note: There is no period after the 'P' in Walter P Moore.
###