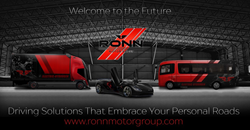 SCOTTSDALE, Ariz. (PRWEB) June 27, 2018
RONN Motor Group, Inc. (RONN), developers of all-electric hydrogen fuel cell, zero emission, long range transportation platforms, announced today that they have signed an agreement with Arbor Lake Capital to represent RONN on a Joint Venture (JV) and capital raising efforts in China and in the U.S. markets. With a total of $220B invested overseas in 2016, China has become the second largest entity in the world regarding foreign investment. As one of the most experienced boutique cross-border investment banks in China, Arbor Lake Capital is well positioned to serve as the portal for the rest of the world's companies to access Chinese capital and the Chinese market.
"We have just returned from a trip to China with Kevin Hong, Founder and CEO of Arbor Lake Capital," said Ronn Ford, Chairman and CEO of RONN Motor Group. "We are now actively engaged in MOU/JV negotiations with a major Electric Vehicle (EV) automaker who possesses EV licenses and a state-of-the-art manufacturing capacity of 500,000 EVs annually.
"Ronn's extensive knowledge and executive team experience in automotive development, manufacturing, and hydrogen technology has accounted for the instant JV offers and MOU terms being discussed within a week of our return from China," said Kevin Hong, Founder/CEO of Arbor Lake Capital.
RMG has been actively seeking Electric Vehicle (EV) partnerships in China, with acute focus on alternative power generation and extended ranges through H2 Graphene fuel cells and advanced absorbent tank designs. Arbor Lake Capital has identified RMG as a strategic designer and technology platform that will accelerate fuel cell adoption within China. RMG's advanced vehicle designs and modular chassis will provide Chinese manufacturers with an extensible vehicle platform that cuts across industries, from inter-city buses and delivery trucks to consumer roadsters, sedans and SUVs.
China's automotive market is now the largest in the world, with government mandates to remove fossil fuels vehicles beginning in 2019. Additionally, Chinese leaders have recently announced that hydrogen will serve as the new energy powering the future as China transitions from battery technology.
About RONN Motor Group, Inc.
As a leader in hydrogen technology, RONN Motor Group is joining the race to reduce our carbon footprint and greenhouse gas effects by creating sustainable energy that will take us into tomorrow through the development of all-electric, hydrogen, zero-emission, long-range automotive and transportation platform designs.
RONN Motor Group was founded in 2013 by Ronn Ford, a 50-year automotive industry veteran with 25 years specifically focused on luxury automobiles.
About Arbor Lake Capital
Founded in 2013, Arbor Lake Capital is a leading cross-border M&A advisory and investment firm focusing on investments between China and the rest of the world. They are the go-to source to access Chinese investors and the Chinese market. They also own China's first cross-border online investment platform with hundreds of Chinese investment needs, aiming to bring Chinese capital to rest of the world's companies.
Forward-Looking Statements: These Materials May Contain Forward-Looking Statements And Information Relating To, Among Other Things, The Company, Its Business Plan And Strategy, And Its Industry. These Forward-Looking Statements Are Based On The Beliefs Of, Assumptions Made By, And Information Currently Available To The Company's Management. When Used In The Offering Materials, The Words "Estimate," "Project," "Believe," "Anticipate," "Intend," "Expect" And Similar Expressions Are Intended To Identify Forward-Looking Statements, Which Constitute Forward Looking Statements. These Statements Reflect Management's Current Views With Respect To Future Events And Are Subject To Risks And Uncertainties That Could Cause The Company's Actual Results To Differ Materially From Those Contained In The Forward-Looking Statements. Investors Are Cautioned Not To Place Undue Reliance On These Forward-Looking Statements, Which Speak Only As Of The Date On Which They Are Made. The Company Does Not Undertake Any Obligation To Revise Or Update These Forward-Looking Statements To Reflect Events Or Circumstances After Such Date Or To Reflect The Occurrence Of Unanticipated Events.