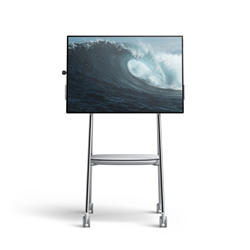 The Microsoft Surface Hub 2 demonstrates the company's commitment to developing exciting products for business customers.
HOBOKEN, N.J. (PRWEB) June 21, 2018
A NYC area IT consultant and MSP presents details on Microsoft's Surface Hub 2 collaboration device to be released for testing soon, in a new article from eMazzanti Technologies leading up to the Microsoft Inspire partner conference this July.
The informative article reviews major new features of the Surface Hub 2, Microsoft's enhanced electronic white board/oversize touch screen display. Multi-user sign-in, dynamic rotation and mounting options to tile multiple displays, and other features such as higher resolution and faster processing are discussed with anticipated benefits.
"Microsoft is constantly innovating to increase productivity," stated Jennifer Mazzanti, CEO, eMazzanti Technologies. "The Surface Hub 2 demonstrates the company's commitment to developing exciting products for business customers."
Below are a few excerpts from the article, "Elegant Surface Hub 2 Elevates Collaboration"
"Two years ago, Microsoft revolutionized group collaboration with the release of the Surface Hub. This May, the company announced an updated version of its powerful interactive whiteboard. Scheduled for general release in 2019, the Surface Hub 2 offers key enhancements to further advance the way teams work in the office and across the globe."
Meetings with Mobility
"Microsoft's partnership with Steelcase greatly expands the mobility of the Surface Hub 2. Sleek Steelcase rolling stands allow users to easily move the new thinner, lighter displays around the office and out into factory. Leave the conference room behind and bring your meeting where the work is."
Dynamic Editing
"Envision a group project with multiple contributors working together to create a presentation. Instead of passing the presentation from one team member to another to input their contributions, pull the entire team into the same virtual room. Each team member signs in with the ability to edit the document simultaneously."
More Affordable
"One purpose for the early announcement, according to Microsoft, was to allow businesses to include the Surface Hub 2 in their lengthy budget cycles. While Microsoft has not yet specified a figure, representatives have indicated that 'pricing will be in line with similar competitive devices.' This would suggest a more affordable option than the original Hub."
Experience the Surface Hub 2
The Microsoft Surface Hub 2 announcement in May offers a tantalizing view of the possibilities for getting people out of their seats to connect and create regardless of location. While the public has to wait until 2019, an early adopter program will allow select commercial customers and Microsoft product testers, such as eMazzanti Technologies, to get their hands on the product this year.
The Microsoft Inspire conference, coming up July 15-19 in Las Vegas, also offers prospective and active Microsoft partners the opportunity to connect with Microsoft insiders and IT industry experts to gain valuable insights on the new Surface Hub 2, as well as other Microsoft products and programs.
Related resource information:
Join the Fourth Industrial Revolution: 5 Ways to Transform Your Business
5 Tools to Help You Work from Rome—or Wherever You're Traveling
About eMazzanti Technologies
eMazzanti's team of trained, certified IT experts rapidly deliver retail and payment technology, digital marketing services, cloud and mobile solutions, multi-site implementations, 24×7 outsourced network management, remote monitoring and support to increase productivity, data security and revenue growth for clients ranging from law firms to high-end global retailers.
eMazzanti has made the Inc. 5000 list eight years running, is a 2015, 2013 and 2012 Microsoft Partner of the Year, 2016 NJ Business of the Year, 5X WatchGuard Partner of the Year and one of the TOP 200 U.S. Microsoft Partners! Contact: 1-866-362-9926, info@emazzanti.net or http://www.emazzanti.net Twitter: @emazzanti Facebook: Facebook.com/emazzantitechnologies.