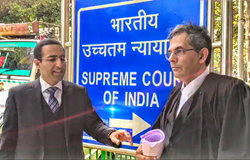 "We need to have more transparency and the citizens of India deserve proper access to justice and transcription services are a very important addition that is needed in our legal system" - Amrish Kilachand
MUMBAI, India (PRWEB) June 28, 2018
Well known businessman Amrish Kilachand, who is a member of one of the richest Gujarati business families in Mumbai, has filed an intervention application in the Supreme Court of India - (Case No. 18220-2018) - to move the court to approve transcription services for all courtrooms in India, similar to what they have in Canada, the United States, United Kingdom, Australia and other developed nations.
Kilachand who attended university in the United States and has a degree in Business Administration said that he believed the Indian courts needed to modernize their processes to come into the 21st century.
"We need to have more transparency and the citizens of India deserve proper access to justice and transcription services are a very important addition that is needed in our legal system," stated Kilachand when asked for comment at his Mumbai residence.
The original Petition, in which Kilachand has filed as an intervenor, was filed by one of India's best-known lawyers, Ms. Indira Jaising.
Ms. Jaising is an Indian lawyer who is noted for her legal activism in promoting human rights causes. In her Petition, she has requested that in cases of national importance, which are heard in the Supreme Court of India, be live-streamed so that the public knows what is happening on major issues that impact citizens in the world's largest democracy.
Senior Advocate Indira Jaising Moves Supreme Court of India For Live Streaming Of Court Proceedings In Important Cases: http://www.livelaw.in/breaking-senior-advocate-indira-jaising-moves-sc-live-streaming-court-proceedings-important-case/
Support live-streaming of proceedings in the Supreme Court of India
https://www.change.org/p/support-live-streaming-of-proceedings-in-the-supreme-court-of-india
Indira Jaising - Wikipedia -
https://en.wikipedia.org/wiki/Indira_Jaising
Ms. Jaising has cited the Supreme Court of Canada as one of the examples of live streaming in apex courts in the world.
On Monday March, 26th, 2018 - well known Mumbai lawyer - Parsi - Jamshed Mistry appeared in court for Mr. Kilachand. Mr. Omprakash Parihar, the lawyer on record that filed the original intervention application for Mr. Killachand was tied up in another matter, in the same courthouse, on the same day and could not attend in person.
Well-known Canadian activist, businessman, author, and freedom of speech advocate Mr. Satinder Dhillon was also in court with Mr. Mistry and Ms. Jaising in Delhi.
http://timesofcanadapresents.blogspot.ca/
Dhillon is the founder of Global Strategic Solutions and the transcripts from the historic freedom of speech case he fought in Canada were filed as the only exhibit in Kilachand's intervention application to highlight the importance of transcripts in court cases.
For the full story please visit:
http://www.amrishkilachandfilesintervention.blogspot.com/2018/06/test.html
Global Strategic Solutions
http://www.globalstrategicsolutions.international/
For more information about Amrish Kilachand and Kilachand House please visit:
https://mumbaimirror.indiatimes.com/mumbai/other/were-not-selling-our-home/articleshow/16037067.cms
For more information about Satinder Dhillon please visit:
http://satinderdhillonmovie.blogspot.com/
http://www.prweb.com/releases/2017/10/prweb14758274.htm
http://www.satinderdhillon.com
Update:
Supreme Court of India - May 5th, 2018: The Attorney General of India has agreed that transcripts are needed in Indian courts and a further hearing of Ms. Jaising's Petition will be heard on July 5th, 2018.