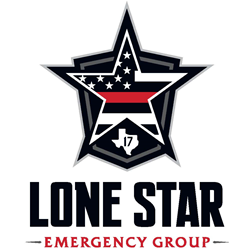 "These additions further illustrate our commitment to service in Texas and our customers in the Panhandle." — Brad Fullington, CEO of Lone Star Emergency Group
HOUSTON (PRWEB) June 22, 2018
Today, Lone Star Emergency Group is excited to announce the opening of its newest, state-of-the-art service center in Lubbock. Lone Star is also proud to announce that Tony Ramirez is joining the Lubbock service center as a road technician.
A Lieutenant and EMT-P, Ramirez has been in the fire service since 2005. He has extensive experience servicing fire trucks across the South Plains and El Paso areas, and spent the last 5 and a half years with the Plainview Fire/EMS Department. Ramirez is also a Level 1 Extrication Technician, and serves as an instructor at several schools in the region.
"We are extremely fortunate to have Tony on board," says Brad Fullington, CEO of Lone Star Emergency Group. "Not only will his expertise help us better serve our customers, but his leadership and experience will be a huge benefit to our team."
Lone Star's new Lubbock service center is the fourth shop the company has opened in the last four months. Like Lone Star's other service centers, it is staffed by technicians whom are committed to serving the region's first responders and their emergency vehicles. To schedule service, call Lone Star field service coordinator Israel Rios at (281) 608-5247 or Tony Ramirez directly at (806) 543-2066.
"We couldn't be more excited to launch our Lubbock location," says Fullington. "This new shop further illustrates our commitment to service in Texas and our customers in the Panhandle." 
Lone Star Emergency Group is looking to add qualified and experienced service road technicians and shop technicians to work on fire trucks and ambulances at its Lubbock location. Interested applicants should contact Lone Star at careers(at)LoneStarEG.com.
ABOUT LONE STAR EMERGENCY GROUP
Owned by former Major League Baseball All-Star Todd Helton, Lone Star Emergency Group offers a full line of Ferrara and E-One Fire Apparatus and emergency vehicles. The company also carries a complete inventory of parts and loose equipment, and provides repairs and other support via its statewide roadside service division and state-of-the-art service centers in Houston, Dallas, Lubbock, and Austin, with an additional service center scheduled to be added in San Antonio.
For more information about Lone Star Emergency group or to schedule service, visit LoneStarEG.com or call (800) 332-7402.