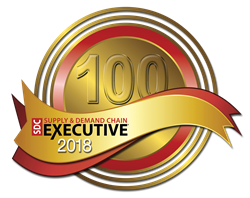 We're proud to be among SDCE's Top 100 Supply Chain Projects. MicroVention's ERP integration with TEKLYNX CENTRAL CFR reflects how we partner with companies of all sizes across industries to ensure our barcode labeling solutions help companies work better over time. – Doug Niemeyer, TEKLYNX GM
MILWAUKEE (PRWEB) June 25, 2018
TEKLYNX International, the world's leading barcode and RFID labeling software developer and solutions provider, today announced it was selected for Supply & Demand Chain Executive's 2018 SDCE Top 100 Supply Chain Projects. The annual list showcases how supply chain solution and service providers help their customers and clients achieve supply chain excellence and prepare their supply chains for success.
"First and foremost, we want to congratulate the winners of this year's Top 100 for their successful and innovative projects, which serve as models to companies of all sizes what is achievable in their supply chains," says John Yuva, editor for Supply & Demand Chain Executive. "Regardless of company size, these projects are best-in-class examples of the types of efficiencies and bottom-line results that supply chain executives should be striving toward in their own operations. Our 2018 winners provide a roadmap for how to get there."
TEKLYNX earned this year's SDCE Top 100 award for its role in medical device manufacturer MicroVention's Enterprise Resource Planning (ERP) integration with TEKLYNX CENTRAL CFR enterprise barcode labeling software solution. The successful implementation streamlined MicroVention's labeling operations globally while driving a 50% improvement in production efficiency. The project also improved MicroVention's ability to support its growing multi-user, multi-facility footprint by providing the capability to print labels from anywhere in the world to a virtually unlimited number of printers. MicroVention also leverages TEKLYNX CENTRAL CFR to comply with medical device manufacturer labeling regulations such as FDA compliance standards 21 CFR Part 11 and Unique Device Identification (UDI) requirements.
"We're proud to be included among Supply & Demand Chain Executive's Top 100 Supply Chain Projects," says Doug Niemeyer, general manager for TEKLYNX. "MicroVention's successful ERP integration with TEKLYNX CENTRAL CFR and the resulting operational improvements reflect how we partner with companies of all sizes across industries to ensure our barcode and RFID labeling solutions help companies work better over time."
TEKLYNX is the only barcode labeling solution provider to offer subscription licensing – allowing companies to start using TEKLYNX for a low cost of entry – while offering a portfolio of tiered solutions that are designed to grow with companies over time. To view a full list of Supply & Demand Chain Executive's 2018 100 Top Supply Chain Projects click here and to learn more about TEKLYNX barcode labeling software solutions visit teklynx.com.
About TEKLYNX International
TEKLYNX International is the world's leading barcode and RFID labeling software developer and solutions provider. An industry innovator for over 30 years, TEKLYNX helps companies operate smoothly and efficiently by implementing labeling solutions that streamline operations while staying ahead of industry-specific compliance and emerging regulations. TEKLYNX is world-renowned for its customer service; offering flexible purchase options, unparalleled service and support, and a comprehensive product offering that grows with companies over time. With operations in the United States, Europe, Japan, Latin America, China and Singapore, more than 630,000 companies in over 120 countries look to TEKLYNX integrated software solutions for their standard of success. Learn more by visiting teklynx.com, LinkedIn, Twitter @Teklynx, and Facebook.com/TEKLYNXInternational or call 888-629-4444.
About Supply & Demand Chain Executive
Supply & Demand Chain Executive is the executive's user manual for successful supply and demand chain transformation, utilizing hard-hitting analysis, viewpoints and unbiased case studies to steer executives and supply management professionals through the complicated, yet critical, world of supply and demand chain enablement to gain competitive advantage. Visit us on the web at http://www.SDCExec.com.