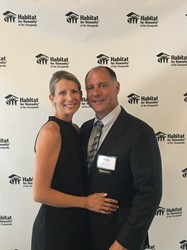 We're ecstatic to be part of the life-changing work Habitat Chesapeake does
LANHAM, Md. (PRWEB) June 22, 2018
Thompson Creek Window Company was named In-Kind Donor of the Year by Habitat for Humanity of the Chesapeake at the 36th Annual Cornerstone Society Donor Reception last night held in Baltimore. Thompson Creek Vice President Brian Wuest accepted the award.
Over the past 36 years, Habitat Chesapeake has built 750+ home and provided safety, stability and a chance for a brighter future to families, including more than 3,000 children. Thompson Creek was honored as a vital supporter helping Habitat Chesapeake to build homes in central Maryland, including recent projects in Baltimore and Annapolis.
Thompson Creek has donated and installed windows and gutters to two homes in the Woodbourne-McCabe neighborhood of Baltimore and one home in the Clay Street neighborhood in Annapolis. During these replacement projects, groups of Thompson Creek volunteers also participated in a Team Build, performing repair work on the home to learn new skills while making a difference in the community.
Clementine Alford was one of the three homeowners welcomed to their remodeled rowhouse in the Woodbourne-McCabe neighborhood of Baltimore. She said, "I've been waiting all my life. This is my dream, and now I have something to leave my children. We're really grateful for Habitat for Humanity for what they've done for our city."
According to Brian Wuest, "We're ecstatic to be part of the life-changing work Habitat Chesapeake does. We're especially proud of the work in Clay Street neighborhood of Annapolis since its located one street over from where we had our first window factory 38 years ago."
Rick Wuest, President and CEO of Thompson Creek, said, "It's an honor to work with Habitat for Humanity of the Chesapeake and to give back to the community that supports Thompson Creek. We are a family business and helping deserving families improve their lives has been a rewarding experience for our company and our employees."
# # #
About Thompson Creek Window Company
Thompson Creek Window Company is a privately owned, family operated manufacturer and installer of energy-efficient home improvement replacement products. Founded in 1980, the Company has evolved into one of the leading specialty home improvement manufacturing and contracting companies in the nation. We provide top-quality replacement windows and doors, vinyl siding, roofing and a clog-free gutter system. Thompson Creek Window Company is headquartered in Lanham, MD, and manufacturers our products in Upper Marlboro, MD, employing more than 400 people in Washington D.C., Maryland and Virginia. The Company's new storefront in Richmond, VA, is scheduled to open in June 2018.
About Habitat for Humanity of the Chesapeake
Habitat for Humanity of the Chesapeake brings people together to build homes, communities, and hope. Since 1982, Habitat for Humanity of the Chesapeake has partnered with more than 700 families in Baltimore City, and Anne Arundel, Baltimore and Howard counties through home construction, rehabilitation and repairs, and by increasing access to improved shelter through products and services. Habitat Chesapeake also advocates to improve access to decent and affordable shelter and offers a variety of housing support services that enable families with limited means to make needed improvements on their homes as their time and resources allow.