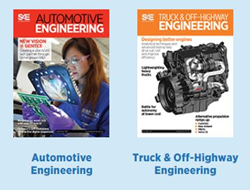 Paul is a remarkable and increasingly rare amalgam of technical knowledge and diverse transportation-sector experience, with a deep understanding of the new-technology sector. - Bill Visnic, editorial director for SAE's Mobility Media group
WARRENDALE, Pa. (PRWEB) June 27, 2018
Veteran journalist Paul Seredynski joins Tech Briefs Media Group, an SAE International Company, as Senior Editor.
Seredynski will write for SAE's award-winning Automotive Engineering magazine and Truck and Off-Highway Engineering magazine, as well as for the SAE's recently fully-redesigned website, http://www.sae.org.
"Paul is a remarkable and increasingly rare amalgam of technical knowledge and diverse transportation-sector experience, with a deep understanding of the new-technology sector," said Bill Visnic, editorial director for SAE's Mobility Media group. "He is a perfect fit for our team, as we document how automotive engineering is evolving to integrate connected, autonomous and electrified technologies."
Seredynski's career has included staff editor and writer positions at Edmunds, Inc., MSN Autos and Cycle World magazine. He was also a communication professional specializing in product technology and engineering for Ford Motor Co., Honda North America and Porsche Cars North America.
"Paul is keenly interested in vehicles of all types. If it moves, he'll find a compelling story in how it is designed, engineered and manufactured," noted Lindsay Brooke, Editor in Chief of SAE's Automotive Engineering. "He's a mobility and tech enthusiast of the first order – and brings a fresh perspective to every story."
Seredynski earned a bachelor's degree in Journalism from Syracuse University's Newhouse School.
SAE International and Tech Briefs Media Group offer a diverse set of print and electronic media resources that delivers unparalleled coverage of the design engineering market across multiple disciplines.
SAE International is a global association committed to being the ultimate knowledge source for the engineering profession. By uniting over 127,000 engineers and technical experts, we drive knowledge and expertise across a broad spectrum of industries. We act on two priorities: encouraging a lifetime of learning for mobility engineering professionals and setting the standards for industry engineering. We strive for a better world through the work of our charitable arm, the SAE Foundation, which helps fund programs like A World in Motion® and the Collegiate Design Series™.