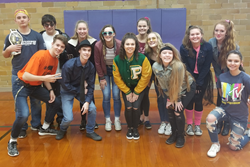 "Educational success is about forming a tangible relationship with a student to encourage them to participate in the learning experience, by empowering them to build these relationships online with some of the countries best teachers." Evan Erdberg, CEO of Proximity Learning
ARMSTRONG, Ill. (PRWEB) June 25, 2018
In the past decade, the number of college students pursuing education degrees has plummeted, down by 35% from 2008 - 2018. Moreover, many senior and experienced teachers around the U.S. are turning in their classroom keys in exchange for their retirement. Both of these factors contribute to an alarming trend of a nationwide teacher shortage affecting schools and their administrative organizational decisions across America.
While this crisis has left many schools in both rural and urban areas operating under-staffed, superintendents like Bill Mulvaney, from Armstrong Township High School District #225 of Illinois, have engaged in new methods to offset one of the worst teacher shortages in the state of IL. The district began working to establish incentives enticing teachers to relocate to their state and local school school district. However, these efforts had had little effect in counteracting the overwhelming staffing issues Illinois schools were experiencing. Furthermore, at the end of last year when their Spanish teacher left the organization, and despite many attempts by the district to find a teacher they were unable to fill the vacancy.
At a regional district meeting, administrators urgently discussed this issue among others. One administrator spoke to the teacher shortage issue, informing the group of their recent partnership with Proximity Learning Inc. The district paired with PLI to stream a real-time, live certified world language instructor for their students in the interim while they searched for a new local teacher recruit. The district noted, surprisingly, students became very engaged in the virtual classroom and asked administrators if the teacher could stay past the interim assignment period.
Intrigued, Armstrong THSD225 decided to test out this method to cover their Spanish vacancy. The district administrators were pleasantly surprised by the instructor's affability and ability to teach in a professional, dynamic way by developing tangible connections with students. This positive experience with PLI mitigated parental and administrative' concern, and led the district to explore Virtual K-12 staffing as an HR backup plan for other current and challenging vacancies they sought to fill in order for students to have the opportunity to succeed.
"Educational success is about forming a tangible relationship with a student to encourage them to participate in the learning experience. By empowering them to build these relationships online with some of the countries best teachers, it cultivates academic achievement at the highest levels," said Evan Erdberg, CEO of Proximity Learning.
About Armstrong Township High School District #225 Located in Illinois and educates over 1,300 students. The district believes in using education to enable all students to develop their academic skills for a lifetime of learning. Learn More
About Proximity Learning Inc.: Proximity Learning Inc. is a virtual staffing company catering to students ranging from kindergarten to high school. Proximity Learning has served over 150 school districts and delivers instruction to over 30,000 students annually, with numbers growing. Proximity Learning has been rated as one of the top K-12 Virtual Staffers in the nation, boasting the highest quality teachers, most innovative virtual classrooms, and the reputation as a flexible learning solution to both public and private school districts. Learn more