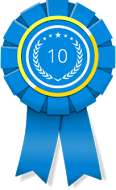 CHICAGO (PRWEB) June 27, 2018
10 Best Design has released its most recent list of award winners for Best Chicago Web Design Business, with Comrade being named in the top spot.
The firms in this category are recognized among all Chicago-based web design firms for their excellence in multiple areas. These areas include web development, mobile app development, web graphics, and customer service. To be honored as a best web design firm, a business must hold itself to the highest professional standards.
Among the recent honorees for best web design business is Comrade. This company functions as a complete digital agency. The firm is very skilled in building e-commerce websites, web development for the healthcare industry, and site development for real estate professionals. Comrade works to help its clients improve the online image of a brand. They can also optimize websites for SEO to help clients achieve better online visibility.
Also making the list of leading Chicago web design businesses is Blue Fountain Media, which combines web design with other digital marketing services. It has five locations across the U.S. to serve clients. Specialties of Blue Fountain Media include e-commerce web development, and clients of this firm have earned over $3 billion in revenues from websites designed by the company.
ColorJar also claims an award for excellence in web design. ColorJar is a top web design firm that focuses on helping clients achieve a cohesive representation of a brand across multiple platforms. The professionals employed by the firm have vast experience in web development, and they are also skilled at development for mobile devices.
10 Best Design takes great pride in presenting this new monthly award for the top web design agencies in Chicago. Firms in the Chicago area are considered each month in order to determine a new list of honorees. 10 Best Design hopes that the firms receiving an award are considered by businesses that need expert web development. Those firms that are selected are chosen from hundreds of eligible firms, and only the top-rated companies receive recognition. 10 Best Design uses a selection process that considers multiple criteria in all aspects of web design and development.
For more information about this month's winners, please visit http://www.10bestdesign.com.