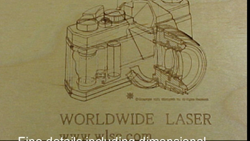 Our mission is to reduce manufacturing costs, protect products and consumers, while providing eco-friendly green manufacturing alternatives for industry, at WLSC we know lasers.
GILBERT, Ariz. (PRWEB) June 28, 2018
Worldwide Laser Service Corp. [WLSC] introduces new laser automation for marking cabinets and wood products, this new laser automation offers cabinet makers the option of laser branding company logos, web sites, and other information including private label work for product lines or consumer products.
The new laser automation is also idea for marking or etching any type of wood product from forks and knifes to awards and plaques, the laser system combined with automation for loading, moving, and unloading the wooden products being laser branded offer a complete turnkey solution to the end user.
This automation is new and unique offering to the industry for the first time a laser automation product with multiple levels of integration from which to choose, from manual operator load and unload up to total automation with light out manufacturing options which completely remove human or operator interaction from the process, and combining the automation features with options of three [3] different laser wavelengths or platforms.
These systems as designed, built and installed allow manufactures to replace paper and foil labels and associated costs, and place customize messages on your cabinets and wood products with very fast speed or cycle time and high degree of accuracy. The use this new laser automation also eliminates inks, chemicals, and solvents helping to provide eco-friendly green manufacturing environments and fulfill our mission of consumer protection, cost reductions, and environmental protection with the use of laser automation.
Another very important feature of this new laser system automaton with LP series lasers in the Co2, [LP8000] UV [LP9000U] and Green [LP9000G] laser platforms is the very high speed and accuracy of galvo beam delivery which will replace the traditional methods of laser etching wood products and cabinets using flying mirrors, fixed beam delivery systems, ink jet printers, and pad printers which are much slower and less accurate with high production and maintenance costs.