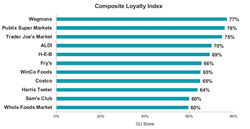 Many supermarket brands are embracing meal kits, and they appear to be making adjustments that address consumers' misgivings about cost and value
LOUISVILLE, Colo. (PRWEB) June 26, 2018
Wegmans is America's favorite grocery retailer, according to an annual consumer study of more than 12,800 shoppers conducted by Market Force Information® (Market Force). Publix, which tied with Wegmans for the top spot last year, is a close second, followed by Trader Joe's, ALDI and H-E-B. This is the third consecutive year that Wegmans has ranked first in the study, after unseating long-running favorite Trader Joe's in 2016.
Wegmans held on to the top spot with a score of 77% on Market Force's Composite Loyalty Index. Publix, which has consistently ranked well in the annual study, is a close second with a score of 76%, followed by Trader Joe's with 75%. ALDI moved up a slot from last year to land in fourth with a score of 70%, and H-E-B rounded out the top five with a repeat score of 69%. Whole Foods landed in the middle of the rankings with 60%, while Safeway and Walmart ranked at the bottom with 42% and 34%, respectively. [See Graph 1].
Wegmans, founded in 1916, is known for its fresh produce, reasonable prices and massive stores. The New York-based chain is expanding steadily and, with a focus on employee training to ensure a great customer experience, it's created a legion of superfans eager for a new location to open near their home.
Publix Stores Are Cleanest, Trader Joe's Offers Fastest Checkout
When it comes to the six customer experience attributes that matter most to consumers, Publix and Wegmans tied for two key ones – store cleanliness and item availability. Wegmans once again ranked first for its specialty department service, while Publix was the clear leader for ease of finding items. Trader Joe's was found to have the fastest checkouts and it scored remarkably high for its courteous cashiers, besting second-place Publix in that category by nearly 10 percentage points. [See Graph 2].
Why Shoppers Pick Their Primary Grocer
What leads shoppers to spend the majority of their grocery budget at a particular store? The study found that convenient location (62%) is the main driver, although good sales and promotions (60%), and value for money paid (55%) are nearly as important to shoppers.
Food Lion customers more often say their grocer excels in convenience, while ShopRite customers say their grocer excels in good sales and promotions. ALDI is lauded by its customers for delivering good value for money, with Costco ranking second and WinCo Foods third. [See graph 3].
Produce Still Most Popular Organic Product
Consumer preference for local and organic choices at the grocery store is holding steady, with 58% of shoppers indicating that locally sourced meat, produce and dairy products are important. Forty-nine percent said they prefer organic when given a choice (down one percentage point from 2017), and 93% had purchased organic produce in the past 30 days, making it the most popular organic item, followed by meat, dairy and packaged dry goods. Baby products and paper products were the least bought organic items. [See Graph 4].
Meal Kit Services See High Churn
Meal kit delivery services – where all the needed ingredients and a recipe are shipped direct to the home – continue to grow in popularity.
Fifteen percent of study participants have tried a meal kit delivery service at least once (up from 11% in 2017), however, nearly half (49%) were less than satisfied with the experience. When asked why they opted for a meal delivery service, 50% said they were looking to add variety to their meal planning. Other popular reasons were to have a fun experience, save time and sample new ingredients. [See Graph 5].
HelloFresh overtook Blue Apron as the most popular meal kit service, with 39% indicating they've tried it. Blue Apron fell one place to second with 35%, and Home Chef was a distant third with 9%. However, 83% who tried a meal delivery service have stopped using it (up from 76% in 2017), primarily because of poor value, but also due to portion size and cost. Home Chef once again has the highest satisfaction rating and the lowest customer churn, along with Plated.
"Many supermarket brands are embracing meal kits, and they appear to be making adjustments that address consumers' misgivings about cost and value. For instance, Costco is now offering Blue Apron kits in some stores for 30% less than the subscription cost," said Brad Christian, chief customer officer at Market Force Information. "While the supermarket industry has offered ready-to-go meals for some time, meal kits in stores is a fairly new phenomenon that we suspect will take off because it gives consumers the convenience they want without locking them into a subscription."
Tech Use Drives Grocery Convenience
Use of technology-assisted grocery shopping continues to increase, with more shoppers choosing online ordering and delivery, as well as click-and-collect (buy online and pick up at store). Fifteen percent of shoppers said they've used click-and-collect, compared to 9% in 2017 and 4% in 2016. Thirty-four percent are frequent users, taking advantage of click-and-collect at least monthly. Walmart, Kroger, H-E-B and Harris Teeter were the grocers most used in the past 90 days for click-and-collect shopping. [See Graph 6].
Home delivery services for groceries are also growing in popularity – 22% said they've used the service, compared to 18% in 2017. Most (35%) are using the service to order from online grocery retailers such as Peapod and Shipped, 34% through general online retailers such as Amazon and Jet, and 24% order from a grocery store chain. However, one-fifth are still less than satisfied with the experience, leaving ample room for improvement.
Despite Rise of Tech, Shoppers Still Keen on Circulars
Although more shoppers are turning to mobile apps for grocery deals, it's not dampening the popularity of circulars. Forty-four percent reported that they use a grocery app – up from 39% in 2017 – and they're overwhelmingly using them to obtain coupons. [See Graph 7].
That said, printed circulars have lost little ground in recent years, with 84% of shoppers continuing to use them at least weekly, and 14% using them at least three times a week. Eighty percent of shoppers said they plan their shopping trips based on the deals offered in the circulars, while 60% clip coupons and 59% use them to compare prices between stores.
Methodology
For the rankings, Market Force asked participants to rate their satisfaction with their most recent grocery shopping experience and their likelihood to refer that grocer to others. The results were averaged to rank each brand based on a Composite Loyalty Index score.
Survey Demographics
The survey was conducted online in April 2018. The pool of 12,892 respondents represented a cross-section of the four U.S. census regions, and reflected a broad spectrum of income levels, with 52% reporting household incomes of more than $50,000 a year. Respondents' ages ranged from 18 to over 65. Approximately 77% were women and 22% were men.
About Market Force Information
Market Force Information® is a customer experience (CX) management company that provides location-level measurement solutions that help businesses protect their brand reputation, delight customers and make more money. Solutions include customer experience surveys, employee engagement surveys, mystery shopping, contact center services and social media review tracking, which are integrated into one technology and analytics platform, KnowledgeForce®. Founded in 2005, Market Force has a growing global presence, with offices in the United States, Canada, United Kingdom, France and Spain. It serves more than 200 clients that operate multi-location businesses, including restaurants, major retailers, grocery and drug stores, petro/convenience stores, banking & financial institutions and entertainment brands. The company has been recognized as one of the top 50 market research organizations in the AMA Gold Report. For more information about Market Force, please visit us online at http://www.marketforce.com.
###