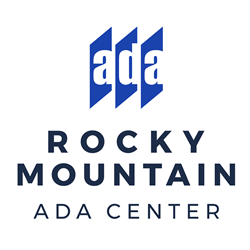 COLORADO SPRINGS, Colo. (PRWEB) June 26, 2018
The Rocky Mountain ADA Center (RMADAC), a member of the National Network of ADA Centers, along with research partners Lillian M. Alvarnaz, JD/MPA and Martin E. Blair, PhD. of the Rural Institute for Inclusive Communities, University of Montana, Missoula is pleased to make available its 2018 Rapid Response Research Project outlining ADA "Drive-By" Lawsuit activity within RMADAC's six state region where the center conducts research and provides services.
"Our team determined there wasn't suitable, current or enough comprehensive data regarding ADA drive-by lawsuits in our region and hope the data acts as a point of reference for anyone seeking information of this nature while also providing a platform for people to discuss the truths and misconceptions around these types of filings," said Dana Barton, Director of The Rocky Mountain ADA Center.
A quick review of the research findings outlines how ADA-related complaints (i.e., legal suits filed in District Court on behalf of a defendant) in the RMADAC region, between 2013 and May 22, 2018 indicate that only two of six states experienced ADA complaints. Federal courts in Montana, North Dakota, South Dakota, and Wyoming had no ADA lawsuits. Colorado and Utah had nearly 600 complaints each over a 65-month period with the bulk filed in 2016 and 2017 with deep ties to serial plaintiffs.
"Regrettably, the data outlines the serious impact of serial plaintiffs that disrupt the efforts of many people who seek compliance in accessibility as outlined by federal mandate. The fact is, most plaintiffs seek justice as they can receive NO compensation from their suits, rather only compliance with physical changes mandated by the courts.
In addition, we want to encourage businesses to contact us to help them better understand their responsibilities, along with providing resources outside of our scope that will assist with important items such as self-evaluation and transition plans that protect businesses while helping them become more accessible which could lead to new customers. We also want businesses to know that compliance can also lead to attractive tax breaks." said Barton.
Trends found in research:

ADA lawsuits more than doubled in Utah and Colorado from 2016 to 2017 & Utah (4) and Colorado (6) made the top 10 list of states for ADA lawsuits in 2017.
Out-of-state serial plaintiffs filed many of the complaints in Colorado and Utah District Courts.
Common ADA causes of action found in research:

Failure to provide an accessible and marked parking space.
Lack of architectural barrier mitigation.
Common Concerns/Themes found in research:

General accessibility.
Businesses were not contacted and asked to comply with the ADA prior to litigation.
To review the full research report or quick reference guide click here.
About the Rocky Mountain ADA Center:
The Rocky Mountain ADA Center provides information on the Americans with Disabilities Act (ADA) to individuals and organizations throughout Colorado, Utah, Montana, Wyoming, North Dakota, and South Dakota. The Rocky Mountain ADA Center is a member of the National Network of ADA Centers and is funded by National Institute on Disability, Independent Living, and Rehabilitation Research (NIDILRR grant number 90DP0094-01-00). Our center is powered by and a project of Meeting the Challenge, Inc. located in Colorado Springs, CO. http://www.rockymountainada.org/.
The center's staff members represent a diverse and dynamic group of individuals who are dedicated to the driving spirit of the ADA as well as the complex standards behind the law.
The Rocky Mountain ADA Center is available to assist with any of the following areas:

Material Dissemination
Technical Assistance on the ADA
Training
Referrals
Research
To connect with the Rocky Mountain ADA Center on social media, click here.