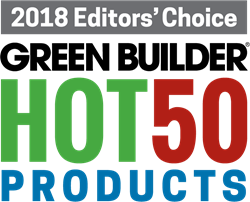 The Hot 50 is Green Builder's annual selection of the most innovative, creative and all-around sustainable products available to the building market.
LAKE CITY, Colo. (PRWEB) June 27, 2018
Green Builder's annual Hot 50 Products list usually draws interest from dozens of companies that want to showcase their latest environmentally friendly wares. This year's list attracted almost 200. Exactly why the field nearly tripled from 2017 is subject to debate. Greater interest in going green? A developmental boom from a growing economy? A veiled response to a less-than-eco-minded Administration? Whatever the reason, one thing is clear: It's no easy feat trimming such a massive roster down to the real all-stars.
Selections were based on how green the product actually is, degree of innovation, how new the item is to the marketplace, and how many products were submitted in each of the 12 categories. Those that just missed the cut are in an Honorable Mention section at the end. But anyone who took the time to dream up, develop or actually bring something sustainable to market deserves a shout.
See the entire list here: https://www.greenbuildermedia.com/hot50-2018-products
About Green Builder Media
Green Builder® Media, LLC is the nation's leading media company focused on green building and sustainable living, affecting positive change by providing inspirational information to over 200,000 progressive building professionals and 38 million consumers who are interested in sustainable living. With a comprehensive suite of content marketing, digital, social, and print media options, high-profile demonstration projects, market research, and live events, Green Builder Media offers a blend of visionary and practical information covering a broad spectrum of sustainable living topics, including Internet of Things, smart home technologies, energy efficiency, water conservation, indoor air quality, resilient housing, renewables and clean transportation.