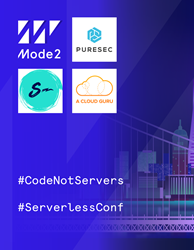 Mode2 is a proud supporter of ServerlessConf as a way to share community knowledge of what works well in emerging tech.
LOS ANGELES (PRWEB) June 28, 2018
Mode2 will join as a sponsor at the next ServerlessConf, which will take place in downtown San Francisco from July 29th to August 1st, 2018. ServerlessConf is a community-led conference focused on sharing experiences of building applications using serverless architectures. In its eighth installment, it will be the first Serverlessconf to be held in West Coast U.S. after successful events in New York City, London, and Tokyo.
Serverless technologies and frameworks have matured significantly in the last two years, with many companies choosing to manage less by building applications that are fully serverless. With less time and resources spent on maintaining cloud instances and servers, companies can focus on code that really matters and benefit from faster time-to-market for their new ideas and applications.
Mode2 is committed to supporting the Serverless community and will be sponsoring the conference this summer. At its exhibition booth, the team will feature their Serverless engineers for an "Ask Me Anything" session, share their experience building a payments application developed entirely using serverless, discuss how to modernize legacy applications, and announce their newest service offerings.
Meet the Mode2 team and learn how their highly specialized skills and deep experience can help you in cloud application modernization and serverless development.

Read their latest white paper on modernizing applications with Serverless
Discuss Serverless solutions on Amazon Web Services and Google Cloud Platform
Watch a demo of PureSec's Serverless Security Run-time Engine
Get your questions answered at their Serverless developer AMA (Ask-me-anything) session
About ServerlessConf SF 2018
ServerlessConf will be held over four days at The Regency Ballroom:
July 29: Serverless Startup Hackathon featuring teams using serverless architectural patterns to connect IoT devices to Big Data
July 30: Workshops
July 31: August 1 - 2-day conference featuring keynote speeches, sponsor exhibitions, and a networking reception
Seats are limited, register here to attend the event.
About Mode2. Mode2 LLC (https://www.mode2.com) is a cloud native solutions developer, helping companies build and optimize workloads that integrate enhanced user experiences, natural language interfaces, machine learning, and predictive analytics. Mode2 has a team of expert serverless architects and developers who create event-driven architectures with strong security postures. Mode2 is headquartered in Los Angeles CA, with locations in San Francisco & Bay Area, Portland OR and New York City.