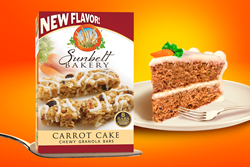 "Carrot cake is a classic that's been enjoyed for generations all across the country," said Jeff Badger, brand director for Sunbelt Bakery. "That's why we're so excited to capture the essence of that iconic taste in a quality granola bar you can feel good about sharing with your family."
CHATTANOOGA, Tenn. (PRWEB) June 26, 2018
What happens when you combine a family favorite with the granola bar that's known for having delicious, bakery-fresh taste? There's a good chance you get a hit.
"Carrot cake is a classic that's been enjoyed for generations all across the country," said Jeff Badger, brand director for Sunbelt Bakery. "That's why we're so excited to capture the essence of that iconic taste in a quality granola bar you can feel good about sharing with your family."
In addition to its soft, chewy texture and instantly recognizable blend of cinnamon, nutmeg and other spices, the new Carrot Cake flavor also includes real carrots. Like all of Sunbelt Bakery's granola bars, the new product is made with whole grains, no high fructose corn syrup and no preservatives.
Badger continued, "Sunbelt Bakery is committed to serving families with delicious snacks that are made the right way. Since new batches of our products are brought from our family-owned bakery to communities every week, our granola bars never need preservatives and always have that bakery-fresh taste."
New Carrot Cake Chewy Granola Bars are a permanent, year-round flavor that are now available at retailers nationwide. The new flavor comes in a Family Pack box of eight bars, each having 130 calories per serving and a suggested retail price (SRP) of $2.69.
To learn more about Sunbelt Bakery and its wide variety of snacks with that bakery-fresh taste, visit http://www.SunbeltBakery.com or follow Sunbelt Bakery at http://www.facebook.com/SunbeltBakery or https://instagram.com/SunbeltBakery.
# # #