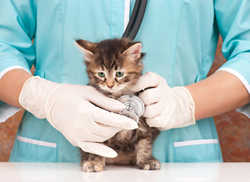 Clients using our platform and apps enjoy greater customer retention levels, and software can help reduce premiums too; but we have to tackle the elephant in the room - the millions who never insure their pets.
(PRWEB) June 27, 2018
With over one million claims settled last year, policies are proving their worth, but Aquarium warns more needs to be done to persuade pet parents of the value of dipping an insurance paw in the water.
The number of successful claims means the industry is paying out £2m a day or £775m a year, reflecting the high cost of modern pet healthcare; yet 67 percent of dogs and 84 percent of cats remain uninsured. Cutting edge new treatments have transformed pet health, but without insurance, the average owner is unlikely to be able to afford them should Felix or Fido fall foul of the vet's knife.
"Claims levels topping one million for the first time since records began is a significant milestone," said Aquarium Software Director, Mark Colonnese. "These figures show the industry doing more than ever to help poorly pets. With average premiums as high as £324 for dogs and £171 for cats, this represents great value, when the average payout is £757. But the industry has more work to do, which technology can help with."
Technology is helping process claims faster, improving the customer journey and cutting opportunities for fraud, but despite obvious benefits and rising vet fees, many pets remain uninsured. The challenge is to persuade owners of the value of insurance as more policyholders will help bring down premiums for all.
"Clients using our platform and apps enjoy greater customer retention levels, and software can help reduce premiums too; but we have to tackle the elephant in the room - the millions who never insure their pets," added Colonnese. "It's an exciting new era, but innovation is essential. Using a DevOps approach among other tools, we are delivering clients solutions aimed at finding new ways to reach potential first time customers quicker than ever." Aquarium has the technology, to meet the specific demands of the niche general insurance sector. Clients are rewarded with reduced technological cost base coupled with capabilities that set them apart from the competition. For further information, contact Aquarium Software on +44 (0)161 927 5620 or visit http://www.aquarium-software.com