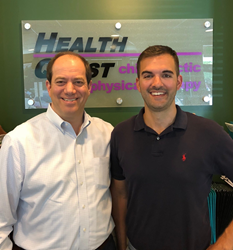 "Joining Health Quest allows us to immediately add 3 locations for patient access, and in the intermediate term will allow us to accelerate our desire to open several more clinics in the metro area." - Dr. Riley Barrett, CEO - ChirowoX
BALTIMORE (PRWEB) July 12, 2018
Health Quest Chiropractic & Physical Therapy today announced an expansion into Baltimore City. This expansion involves prominent, Federal Hill based, CHIROWORx, a leading provider of rehabilitative health care services, including Chiropractic and Physical Therapy.
According to Health Quest CEO, Dr. Paul Ettlinger, "We're very excited to welcome the CHIROWORx team into our company and our model." He continues, "We've been working closely with CHIROWORx CEO and Founder, Dr. Riley Barrett, and his team for some time now. In light of our expansion plans, and Riley's similar goals, we were able to come to an agreement to combine forces and have them join Health Quest".
"CHIROWORx has built a loyal patient base in Federal Hill, and surrounding community with outstanding care, health focused outcomes, and community outreach." says Marcy Ettlinger, COO of Health Quest. "Dr. Barrett and his team are second to none, and we're looking forward to working with them to expand care, and add future locations."
CHIROWORx will be changing to Health Quest Chiropractic & Physical Therapy in July, 2018. According to Dr. Riley Barrett, CEO of CHIROWORx "This change will enable us to focus even more on patient care. By leveraging the existing Health Quest infrastructure, we'll be able to focus on what matters most: getting people back to work, enjoying sports, and living pain free." He adds, "This also allows us to expand our care, essentially giving our customer base four (4) locations from which to choose. Access to great care is important to our patients and with this move, we'll be quadrupling that access for our community."
Dr. Barrett adds, "We're also looking to the future in Baltimore. Part of our goal has been to open numerous clinics, and with the backing of Health Quest, we can shorten the time frame for opening new locations."
There are no planned changes to the hours, staff, or care plans. "The only thing that's going to be a noticeable change to patients, is the sign above the door." says Dr. Barrett. He continues, "While we change the sign, we're also changing the office with a remodel, to create more more Physical Therapy areas within the clinic."
About Health Quest Chiropractic & Physical Therapy
Health Quest provides a wide range of chiropractic, physical therapy, and rehabilitative services in a treatment plan customized to each patient's specific needs and condition.
Services at Health Quest are provided by our doctors and their team of licensed assistants in an environment underscored by superior customer service. We go beyond typical treatment of neck pain, back pain, pinched nerves and herniated discs to treat pain and injuries in the entire body, including shoulders, elbows, hips and knees. We also care for those involved in auto accidents or work-related injuries. And, we are the only clinic in a 40-mile radius offering Functional Neurology treatment of post-concussion syndrome, migraines, vertigo and peripheral neuropathy.
For more information visit https://www.hqchiro.com/
About CHIROWORx
CHIROWORx Spine & Rehab is a chiropractic and physical therapy office dedicated to providing the communities of South Baltimore the best possible musculo-skeletal healthcare available in the area. At CHIROWORx we realize that no two patients are the same. For that reason, each and every patient that comes through the door is treated as an individual, and given the time and level of customized care they require to get them back to doing the things they love as quickly as possible. Dr. Barrett and his staff are extremely knowledgeable in many different forms of treatment, so you can be assured that there is always something for you.
For more information visit http://chiroworxspineandrehab.com/
About Growth Solutions Team
The Growth Solutions Team is a leading provider of Business and Management Consulting, Sales and Customer Service Training, and Business & Executive Coaching. The Growth Solutions Team assists companies with business process efficiency, and improved visibility, accountability, long range planning, and business development strategies. The Growth Solutions Team's programs, combine Business Strategy and Planning, Team Development, Marketing, Business Development assistance, and advisory services. For more information visit the website at http://growthsolutionsteam.com/