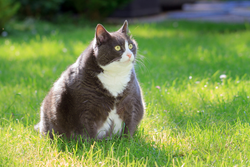 A rise in obesity related illness and injury is leading some insurers to ask if a pet is obese before they will consider insurance, due to the risk of a related claim. Cover can be refused for certain conditions, based on pet weight, so the advice would be to get that tabby on the treadmill.
(PRWEB) June 28, 2018
Over 40 percent of cats and dogs are now said to be obese and as with their human owners, health problems from diabetes to heart disease can come along with it.
The latest software advances mean pets can be fitted with fitness trackers and the results monitored. In much the same way as careful drivers are rewarded with lower premiums, owners can be offered a discount for a healthy pet. Technology also allows pet, vet, insurer and owner to be linked digitally as never before. While this is being used to educate owners and improve pet health in general, it can also identify wayward owners too.
"We have been debating the pet obesity issue with our clients for some time and it is clear some pet parents are not getting the message," said Aquarium Software Director, Mark Colonnese. "Technology can help owners keep their schnauzer and siamese in shape, but it can be used to penalise those who will not listen with higher premiums or a refusal of cover, while offering discounts to those who care for their pets. Good diet is part of treating a pet with respect and that is a lesson many of us could probably apply to ourselves," Mark added.
"We have seen Fitbits for pets and other gadgets, and while these work, we need to see a change in owner attitudes," said Colonnese. "A rise in obesity related illness and injury is leading some insurers to ask if a pet is obese before they will consider insurance, due to the risk of a related claim. Cover can be refused for certain conditions, based on pet weight, so the advice would be to get that tabby on the treadmill, if need be," Mark concluded. Aquarium has the best technology platform on the market, to meet the specific demands of the niche general insurance sector. Its clients are rewarded with reduced technological cost base coupled with capabilities that set them apart from the competition. For further information, contact Aquarium Software on +44 (0)161 927 5620 or visit http://www.aquarium-software.com