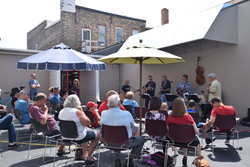 As we continue to integrate music-focused events in Appleton year-round, we are learning how valuable music is to a community, especially in terms of social and cultural connectivity.
APPLETON, Wis. (PRWEB) June 27, 2018
On June 21, Appleton, Wisconsin, joined 800 cities and 120 countries around the world in the celebration of Make Music Day.
The community was invited to participate in this one-day event through a variety of hands-on and listening activities planned at several downtown locations. Musicians of all ages and experience levels – from singers and instrumentalists to full bands – came together to share music in many different formats.
Make Music Appleton was organized as a collaborative effort by Heid Music and Mile of Music in its first year with added support from Appleton Downtown, Inc. (ADI).
"Ever since Appleton welcomed its popular Mile of Music festival five years ago, we've seen how receptive our community is to being part of the music scene," explained Dave Willems, co-founder and executive producer of Mile of Music. "Introducing Make Music Day was another way to give people a chance to join in on the music-making experience."
To celebrate Make Music Day, activities were scheduled throughout the day with many held outdoors as June 21 was also the official start to summer and longest day of the year. Mayor Tim Hanna issued a proclamation declaring the day as Make Music Day in Appleton.
Activities included:

Plaza concerts by two Wisconsin-based artists
Community band performances
Interactive bucket brigade and hand percussion
Playing session with 100 harmonicas
Ukulele and guitar jams
Rock painting to music
Busker performances
"Designed to be all-inclusive, Make Music Day was a success in bringing both seasoned musicians and beginners together to share their talents," said DeDe Heid, executive vice president of Heid Music. "It was really inspiring to see people exploring, embracing and enjoying music in the same space."
Introduced in France in 1982, Make Music Day was created as a way for communities across the globe to celebrate all things music. One of the goals of Make Music Appleton for 2018 and beyond is to create a greater awareness of the value music brings and showcase some of the thriving musical organizations and performers locally. Organizers hope to spread the word about the event and welcome music from all cultures as part of Make Music Day.
According to Jennifer Stephany, executive director of ADI, Appleton's emphasis on music is having a positive impact. "As we continue to integrate music-focused events in Appleton year-round, we are learning how valuable music is to a community, especially in terms of social and cultural connectivity."
The organizations that collaborated to bring Make Music Day to Appleton plan to turn this into an annual event with Make Music Appleton set to return on June 21, 2019.
As Heid said, "We'd love to see people make music a regular part of their everyday lives and this is one more way to help encourage that."
About Make Music Day
Held annually on June 21, Make Music Day is part of the international Fête de la Musique, taking place in 800 cities across 120 countries. The daylong, musical free-for-all celebrates music in all its forms, encouraging people to band together and play in free public concerts. This year, more than 65 U.S. cities are organizing Make Music Day celebrations, encompassing thousands of concerts nationwide. Make Music Day is presented by the NAMM Foundation, and coordinated by the Make Music Alliance. For more information, please visit makemusicday.org.
About Heid Music
For three generations spanning 70 years, Heid Music has been a community music resource, aimed at educating and entertaining students and musicians in all things music. Its goal is to bring music to communities and students through sponsorships and performer partnerships. With locations in Appleton, Green Bay, Madison, Oshkosh and Stevens Point, Wis., Heid Music offers an array of new and used instruments for sale or rent, including band and orchestra instruments, acoustic and digital pianos, guitars and drums, and much more. Featuring Wisconsin's largest selection of sheet music, Heid Music also carries a variety of amps, accessories and gift items, offers private and group lessons, and provides instrument repair services. Visit HeidMusic.com for more information or to purchase instruments and accessories.