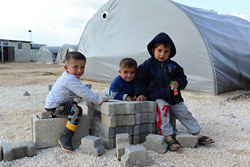 "It is an honor to have the opportunity to co-create with Amal Alliance and provide emotional support to children in refugee camps." Kerry Wekelo
RESTON, Va. (PRWEB) June 27, 2018
Kerry Wekelo, Director of Human Resources and Operations for Actualize Consulting and Founder of Zendoway says, "It is an honor to have the opportunity to co-create with Amal Alliance and provide emotional support to children in refugee camps. I am inspired by the words of Nelson Mandela; 'Let us reach out to the children. Let us do whatever we can to support their fight to rise above their pain and suffering.' "
After meeting at the National Kids Yoga Conference, Zendoway and the Amal Alliance joined forces to provide psycho-social support to displaced children in refugee camps and informal settlements across the world. Their integrated holistic approach to personal transformation and empowerment for refugee youth fits right in with Kerry's philosophy. The company name Zendoway embodies Zen; which is about meditation, intuition, and insight. A "zendo" is a meeting hall or forum where that learning takes place. Zendoway is about incorporating the lessons and community of these thousand-year-old practices into modern daily living.
Smile 4 Happiness aims to channel inner strength and positivity through recreational activities, athletic programs, mindfulness, and fostering creativity for displaced youth. Children with a minimum of two local facilitators are provided a safe and secure space where they are guided through relaxation exercises, kid's yoga, play, music, arts, and crafts. Merging Zendoway Cubes with Smile 4 Happiness is a perfect collaboration. The Happy Cube is intended to engage children on multiple emotional levels that are inspired by self-compassion, mindful expression, self-regulation, happiness, and loving kindness through movement.
Together, they worked to develop and co-create the "Happy Cube" as a tool to help teachers guide children who have survived trauma on how to better cope with their emotions. Zendoway donated 150 Happy Cubes to Amal Alliance's Smile 4 Happiness pilot program. "This was a truly a multi-organization initiative that brought together leading trauma experts like Dr. Catherine Cook-Cottone, Joanne Lloyd LICSW, and PhD Candidates for consultations on how best to correlate emotions into movement," says Danielle De La Fuente Co-Founder & Director of Amal Alliance. "It has been a massive collaboration. We launched our program in conjunction with the Elpida Home (Greek partners) and the Urban Yoga Foundation. We achieved our goal of training teachers and setting up a safe space so that they can conduct classes." Amal Alliance is scheduled to open additional safe spaces in Lebanon and Kenya later this year.
True to form, Kerry is following one of her own principals found in her book and program Culture Infusion: 9 Principles to Creating and Maintaining a Thriving Organizational Culture. Principal 9 is all about encouraging team connections and giving back. "When we give back, we share a deeper sense of connection. That is why we encourage cause-related employee activities at Actualize Consulting—those that enhance corporate social responsibility (CSR), " says Kerry Wekelo
The Happy Cube will be sold alongside Zendoway's Cube Packages. For every package purchased, a Happy Cube is donated to a displaced child at either refugee camps or informal settlements in an Amal Alliance safe learning space. The cubes are available at http://bit.ly/GiveACube
Culture Infusion: 9 Principles to Creating and Maintaining a Thriving Organizational Culture is now available on Amazon in paperback http://bit.ly/wkThrive and Kindle http://bit.ly/wktrend
For eCourses, Culture Infusion Seminars, and consulting services visit http://bit.ly/2gYbXbP
BIO: KERRY WEKELO, MBA, is a coach, yoga instructor, author, mom, and HR Director.
As Managing Director of Human Resources and Operations for Actualize Consulting since 2005, author Kerry Alison Wekelo brings us a front-row seat perspective on her experiences, blending her corporate knowledge with her mindful wisdom in her latest book Culture Infusion. Her work always includes giving back to charity and community. She is also a life coach, award-winning author of children's books, and the founder and visionary of Zendoway, a company that encourages holistic wellness.