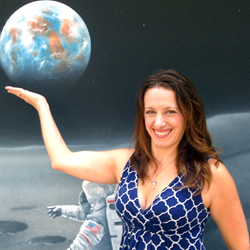 The ultimate goal is to bring the cost of spaceflight down and open up the market to almost anyone, which will foster the need to build more spaceports
NEW YORK (PRWEB) June 27, 2018
So, was Bart Howard a visionary when he wrote "Fly Me to the Moon" in 1954 or was it just wishful thinking? Regardless, consumer travel to destinations not found on Earth is just around the corner. In fact, according to Laura Forcyzk, aerospace industry analyst at Astralytical, consumer space travel could begin as early as 2020. As Uber continues to explore flying taxis in France and Amazon looks to drones for a new approach to home delivery, it should come as no surprise that the next popular travel destination would be one that defies the laws of gravity. ExpertFlyer recently went One-on-One with Laura Forczyk to determine how close we really are to consumer space travel, who will be providing the transportation, and of course, how much will an out-of-this-world experience set you back.
According to Ms. Forczyk, Virgin Galactic (Sir Richard Branson) and Blue Origin (Jeff Bezos) are the likely immediate providers of transportation into space, and while 700 consumers have shelled-out $250,000 each to reserve a seat on Virgin Galactic, the race for space is a toss-up between the two companies. "I think suborbital rides in space will initiate the process of space travel," said Ms. Forczyk. "Suborbital means you do not go completely around the Earth (orbital). You only go a portion of the way and in many cases, passengers will simply go straight up, and land at the original point of departure…a five-minute ride in space for $250,000." Forczyk added that, extended stay trips to space are also in the works through Space Adventures.
Once consumer space flight occurs on a regular basis and the overall cost becomes more affordable, many experts believe space tourism will become a multi-billion-dollar market. "The ultimate goal is to bring the cost of spaceflight down and open up the market to almost anyone, which will foster the need to build more spaceports," said Forczyk who noted that Virgin Galactic, Blue Origin, and SpaceX each have spaceports (on Earth) for continued testing.
"The idea of space travel for consumers has been discussed for decades but the reality of it being just a few years away is very exciting," said Chris Lopinto, president and co-founder of ExpertFlyer.com. "While space travel will initially be out of the financial reach of most consumers, it very well could help reduce the cost of traditional travel here on Earth."
Consumers with the desire and financial wherewithal to travel into space should reserve their spot now and recognize that this is probably a good time to upgrade to a window seat.
To learn more about space travel and listen to the podcast with Laura Forczyk from Astralytical, visit ExpertFlyer's blog.
About Astralytical
Astralytical is a research, consulting, and publishing firm founded in 2016 and located outside of Atlanta. We specialize in space-related scientific research, industry and policy analysis, career coaching, and communications. We welcome global clientele for consulting, coaching, project, or ongoing support. We are problem solvers. Our goal is to assist you with your project to a successful outcome. Our experiences span government, industry, academia, nonprofits, and start-ups. Our expertise includes science and technical, business, and political. We are committed to serving you through the completion of your project or on an ongoing basis as you need us.
About ExpertFlyer.com
Each month, ExpertFlyer's One-on-One blog goes face-to-face with the travel industry's leading decision makers to discuss and address topics relevant to many of today's business and frequent travelers.
ExpertFlyer.com was conceived and created by an eclectic team consisting of a veteran elite tier frequent flyer, an airline captain and corporate travel manager, and information technology professionals to deliver a 24/7 real time powerful air travel information service. The company provides its subscribers and corporate travel managers alike with a complete, concise and efficient way to access the ever-changing details of worldwide air travel information. For more information, please visit expertflyer.com.
Stuck in the middle seat again? Download the free Seat Alerts app from ExpertFlyer and get the window or aisle seat without hassle or frustration.