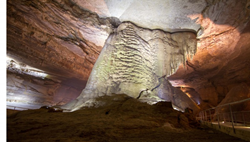 When it is hot outside, think underground where there is plenty of memory-making possibilities and fun to be experienced in a cool setting.
KNOXVILLE, Tenn. (PRWEB) June 28, 2018
Tucked away in the rolling hills of the Tennessee River Valley are some of Earth's most beautiful creations. This region is home to many caverns, each with its own unique story and formations. These beautiful natural attractions have a comfortable temperature of approximately 60 degrees year round, making a summertime visit an ideal time to visit.
Raccoon Mountain Caverns, Chattanooga, Tenn.
Located just outside of Chattanooga, Raccoon Mountains Caverns consists of over 5 1/2 miles of explored and mapped passageways with new discoveries still being made. Visitors can choose from either a 45-minute, come-as-you-are walking tour known as the Crystal Palace Tour or from one of several wild cave expeditions.
Raccoon Mountains Caverns offers different levels of caving to cater to all levels of visitors, and supply visitors with headlamps and knee protection for those who choose to get dirty. Visitors are invited to tour the vast cave system, pan for gemstones, enjoy the thrill of a go-kart ride, or relax by a campfire while taking in the spectacular views of both Lookout Mountain and Raccoon Mountain.
Mother Nature controls the thermostat inside the cave where it remains a constant 58 degrees all year. Raccoon Mountain Caverns is open daily except for Christmas Day and Thanksgiving Day and admission is charged.
Craighead Caverns, Sweetwater, Tenn.
Craighead Caverns is an extensive cave system located between Sweetwater and Madisonville, Tenn. It is best known for containing the United States' largest underground lake, The Lost Sea. Guided tours of the caverns involve a ¾ mile round-trip walk. While touring the caverns and underground lake, guides share the caverns' history, including how the cave was once used by Cherokee Indians and how the Confederate soldiers mined the cave for saltpeter for the production of gunpowder. They will also explain the fascinating geological development of the immense cavern rooms and rare formations. At the bottom of the cave guests are treated to a boat ride on The Lost Sea, America's largest underground lake. The temperature remains a pleasant 58 degrees.
The caverns have been used since the days of the Cherokee Indians. From the tiny natural opening on the side of the mountain, the cave expands into a series of huge rooms. Nearly a mile from the entrance, in a room now known as the Council Room, a wide range of Indian artifacts including pottery, arrowheads, weapons, and jewelry have been found, testifying to the use of the cave by the Cherokees.
The caverns are open every day of the year for tours except Thanksgiving and Christmas Day and admission is charged.
Tuckaleechee Caverns, Townsend, Tenn.
Estimated to be between 20 and 30 million years old, Tuckaleechee Caverns in Townsend, Tenn., is known as the "Greatest Site Under the Smokies." Tuckaleechee Caverns offers guided tours of the cave, which consists of a year-round temperature of 58 degrees. Features include the Big Room where a football stadium could easily fit and Silver Falls. At 210 feet from top to bottom, it is the tallest subterranean waterfall in the eastern United States.
According to legend, the Cherokee Indians knew of the caverns and hid in them before the white man discovered them around 1850. Written reports tell of the discovery of the caverns by white man about the middle of the 19th century when sawmill workers watched water from a heavy rain pour into a sink hole in the area. The hole was filled with debris but one of the men found an opening in the rock and made his way to what is now the entrance of the caverns.
Tuckaleechee Caverns is open from mid-March to mid November and admission is charged.
Cathedral Caverns, Woodville, Ala.
Located just a short drive from the Rocket City of Huntsville in northern Alabama is Cathedral Caverns State Park. The highlight of Cathedral Caverns is its massive entrance. The huge opening measures 126 feet wide and 25 feet high, a possible world record for commercial caves. Inside the cavern, visitors are greeted with some of the most beautiful formations Mother Nature has ever created including Goliath, one of the largest stalagmites in the world measuring 45 feet tall and 243 feet in circumference; a caveman stone formation perched atop a flowstone wall; a frozen waterfall; a large stalagmite forest and an unusual stalagmite measuring 27 feet tall and 3 inches wide. In addition to cave tours, Cathedral Caverns State Park also offers gemstone mining and campsites are available.
Cave tours at Cathedral Caverns are scheduled daily except for New Year's Day, Thanksgiving Day and Christmas Day and admission is charged.
"When it is hot outside, think underground where there is plenty of memory-making possibilities and fun to be experienced in a cool setting," said Julie Graham, spokesperson for the Tennessee River Valley Stewardship Council. "No two caves are alike. Each one has its own unique story to tell. While underground, learn the difference between stalagmites and stalactites, how it takes millions of years for formations to form, and how early settlers benefited from these natural wonders."
Most caves maintain a comfortable 60 degrees temperature year round and guests may want to bring a light sweater or jacket while visiting. Due to the layout, narrowness of some passageways, and number of steps, some caves are not wheelchair or stroller accessible. Visitors should call before visiting to verify if handicap accessible.
Along with these caverns, the Tennessee River Valley offers a compelling story, captivating visitors with its little unknown facts, pristine, untouched areas and rich, authentic experiences. Save trip ideas and plan a trip easily with the Tennessee River Valley Geotourism MapGuide, an online guide of authentic places and adventures that have been recommended by locals.