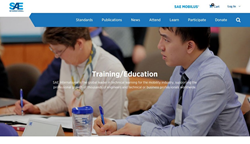 We're talking about critical thinking and problem solving; time management; record-keeping and documentation; effective teaming; and program/project management. - J. Kevin Perry, EdD, Director of Professional Development for SAE International
WARRENDALE, Pa. (PRWEB) June 28, 2018
SAE International wants to help engineers just starting out in their professions to gain the skills they need to be successful.
Toward that goal, SAE International announces the new Workforce Readiness Academy, a professional development program geared for those just beginning their engineering careers.
"The goal is to quickly address the gap between knowledge learned in university engineering degree programs and knowledge/skills needed to be productive in the mobility engineering environment including technical, organizational, and personal disciplines," J. Kevin Perry, EdD, Director of Professional Development for SAE International, said.
SAE's Workforce Readiness Academy consists of a series of on-line, self-directed modules and a five-day instructor-led classroom experience.
The five-day classroom session will be held Sept. 24-28 in Troy, Mich.
After running two pilot programs in 2017 and consulting with dozens of representatives from industry and academia, Perry and team developed a curriculum geared for 19- to 24-year-olds and focused heavily on business skills.
"The business skills are considered by many to be even more important than technical skills," said Perry. "We're talking about critical thinking and problem solving; time management; record-keeping and documentation; effective teaming; and program/project management."
The Academy is particularly beneficial to new hires having responsibilities in manufacturing, maintenance, research, design, product and process development, program and project management, troubleshooting, and materials management. However, college student also will find value in the program.
Frank Menchaca, Chief Product Officer for SAE International, was involved in the pilot program for students. "The students found the instruction on engineering project management most valuable because it teaches them skills that they can use on day one of their new job," Menchaca said.
CLICK HERE for more information about SAE International's new Workforce Readiness Academy
CLICK HERE to register for the five-day classroom session, Sept. 24-28 in Troy, Mich.
To learn more about SAE International's full complement of professional development programs and courses, visit https://www.sae.org/learn/professional-development.
About SAE International
SAE International is a global association committed to being the ultimate knowledge source for the engineering profession. By uniting over 127,000 engineers and technical experts, we drive knowledge and expertise across a broad spectrum of industries. We act on two priorities: encouraging a lifetime of learning for mobility engineering professionals and setting the standards for industry engineering. We strive for a better world through the work of our charitable arm, the SAE Foundation, which helps fund programs like A World in Motion® and the Collegiate Design Series™.