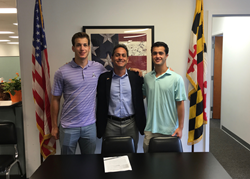 ROCKVILLE, Md. (PRWEB) June 27, 2018
Neal Simon, the unaffiliated candidate for Maryland's U.S. Senate seat, filed his Declaration of Intent to Seek Nomination by Petition with the Maryland State Board of Elections today. He released the following statement:
"This November, Maryland voters will finally have an alternative to the establishment picks for U.S. Senate. They deserve to have a real choice that puts people over politics and party. That's why I've filed my Declaration of Intent to Seek Nomination by Petition today to be a voice in Washington for the people of Maryland. We plan to submit more than the required 10,000 signatures to the Board of Elections by the end of July, ahead of the deadline of Aug. 6.
"Over the last six months, I have crisscrossed the state visiting every county and meeting thousands of voters and listening to their concerns. It is clear people are sick and tired of the establishment parties and the constant partisan gridlock in Washington. Marylanders want fresh, new leadership that will help them get ahead and finally give them the voice they deserve in Washington. I intend to be that voice for change."
Simon is challenging incumbent Democratic Sen. Ben Cardin in November. Simon officially filed for his candidacy with the U.S. Senate and the FEC in February and followed that up today with the Declaration of Intent letter with the Maryland State Board of Elections. The State of Maryland requires candidates unaffiliated with a political party to submit 10,000 signatures to be listed on the ballot. This requirement is in contrast to members of a political party who can be listed on the ballot by being a registered voter over the age of 30 and paying $290 dollars.
Several key points about this year's electoral landscape demonstrate Simon is mounting a credible and serious campaign against Cardin:

Cardin has an approval rating of just 44%, according to the recent Goucher Poll, a dismal approval rating for a sitting senator, especially considering the same poll had Gov. Larry Hogan at 69% approval, a 25-point differential.
In Maryland, the fastest growing voter block is unaffiliated voters, according to the State Board of Elections. Since January of 2017, the Democratic party has lost 42,306 voters, the Republican party has lost approx. 26,000 voters.
The Cook Political Report states that Neal Simon is the only credible contender to Cardin and RealClearPolitics positions Neal as Cardin's main challenger.
In February, Simon filed his Statement of Candidacy with the Secretary of the Senate; today, he filed his Declaration of Intent to Seek Nomination by Petition with the Maryland State Board of Elections.
Simon has hired Steve Crim as his campaign manager. Crim managed Gov. Hogan's successful 2014 gubernatorial campaign and served as a senior adviser in Hogan's administration from 2015-2017; Crim and Hogan co-founded Change Maryland, a grassroots anti-tax effort started in 2011 that fueled Hogan's long-shot bid for governor, which ended with an upset victory over then-Lt. Gov. Anthony Brown.
In Q1, the Simon campaign outraised everyone from individual donors, including Cardin, and his Q2 fundraising numbers are on track for his campaign to not only be competitive with Cardin but to potentially beat him.
Simon's campaign has a strong ground game – in May, he completed a "Listening Tour" of all 23 Maryland counties plus the City of Baltimore; Simon has a busy summer calendar of visits scheduled across the state and his campaign recently launched a dedicated recreational vehicle for campaign travel.
Simon has been nationally endorsed by Unite America, a moderate, centrist group with members that include sitting independent governor Bill Walker of Alaska.
For more information, visit http://www.nealsimon.com and follow on Twitter: @nealjsimon.
Paid for by Neal Simon for U.S. Senate.