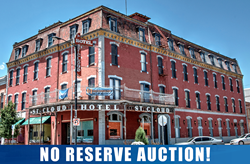 CANON CITY, Colo. (PRWEB) July 10, 2018
Top Dollar Realty & Auction of Brighton, Colorado is conducting a NO RESERVE AUCTION of the Historic Hotel St. Cloud in Canon City, Colorado. This investors' dream is a classic hotel is on the National Register of Historic Places and will sell at Auction on July 26th at 1:03PM.
According to Nathan Casteel from Top Dollar Realty & Auction, "The Hotel St. Cloud was built in 1888, has 44+/- rooms and is ready for an owner or investor to bring this gem back to it's original glory." This hotel is one of the oldest hotels in the State of Colorado and is built with the beautiful Second Empire style. A new roof was completed in January 2016 even though the hotel is not currently in operation. Investors take note there are also potential tax credits available with this property. During its finest days, the hotel celebrated guests such as Tom Mix, Slim Pickens, Robert Walker, Joanne Dru, Broderick Crawford and John Wayne.
Live & Online Bidding for this incredible investment will be held at the Hotel St. Cloud at 631 Main St, Canon City, CO on July 26th at 1:03PM. Property is being sold "AS-IS, WHERE IS" with no contingencies for financing, appraisal, inspection, or any other reason. A buyer's premium of 10% will be added to the high bid for the contract price. Seller will furnish a title insurance policy. Buyer's can register for online bidding through Top Dollar's website. For more information regarding the property and the terms of sale, visit http://www.TopDollarRealty.US
About Top Dollar Realty & Auction
With over 20 years in the real estate industry, Top Dollar Realty & Auction knows the best way to manage the current market and get your property sold! Top Dollar utilizes three ways in which to sell properties and can adjust the terms of the contract to give the seller the greatest benefit and maximize profit. For more information on Top Dollar Realty & Auction, visit http://www.TopDollarRealty.US or call us at 303-941-7653.