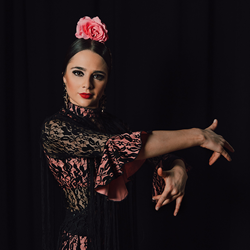 "In our culture in northern New Mexico, we can tell our story through this art form."
SANTA FE, N.M. (PRWEB) July 03, 2018
The Benitez Cabaret at the Lodge at Santa Fe is proud to announce the debut of La Emi –– New Mexico's fastest-rising flamenco star –– and the inaugural season of EmiArteFlamenco in special collaboration with the National Institute of Flamenco.
A prominent performer, teacher, and organizer in the city's flamenco scene, La Emi –– a 27-year-old New Mexico native –– is experiencing one of life's full circles, as she prepares for a summer residency on the same stage where she witnessed her first flamenco show as a small child.
La Emi has dedicated herself to an art form whose aesthetic, sound and sensibility have found resonance and expression in New Mexico since at least the early 1940s. "Flamenco is an expression of the people, for the people," she says. "In our culture in northern New Mexico, we can tell our story through this art form."
In 2014, she launched her own dance company, EmiArteFlamenco, and in 2017 she founded both EmiArteFlamenco Academy, a school for students of all ages, and Flamenco Youth de Santa Fe, a children's company that performs for communities all around New Mexico.
Alongside La Emi, fourth generation dancers Nevarez Encinias and José Encinias will be featured soloists at the Benitez Cabaret, accompanied by a rotating corps of other dancers from Albuquerque. By incorporating her students and collaborating with the National Institute of Flamenco, Griego, Fernandez, and Chuscales, La Emi is doing essential work bridging flamenco families, communities, and histories while creating space in which new relationships and ideas can grow.
Tickets will be priced at $20-$50 and can be purchased now through The Lensic Box Office at TicketsSantaFe.org | (505) 988.1234 or (505) 660.9122. Groups (5 tickets or more) will qualify for a discounted rate with use of redemption code "FLAMENCO", and tickets will also be available on-site after 6:30 p.m. The show debuts Friday, July 13th thru Sunday, July 15th, followed by weekly performances each Wednesday through Sunday –– with the entire season spanning from July 13th thru August 26th. Doors open at 7:15 p.m. with shows starting at 8 p.m. Visit lodgeatsantafe.com/flamenco for showtimes and additional information.