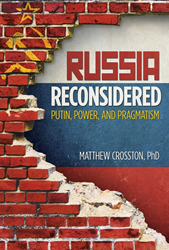 The simple reality is that there is a 'Cold War residue' that mentally still plagues too many decision-makers within both the Russian Federation and the United States. --Dr. Matthew Crosston
DALLAS (PRWEB) July 03, 2018
In this neo-Cold War era in America, Russia is viewed as the villain of foreign affairs. Though nearly three decades removed from the end of the Cold War, Americans often have an outdated orthodox perception and a limited understanding of Russia today. Dr. Matthew Crosston confronts these misconceptions in his latest book.
Russia Reconsidered: Putin, Power, and Pragmatism launched nationally on June 29 from Brown Books Publishing Group. Backed by 28 years of extensive commitment to the post-Soviet space, Dr. Matthew Crosston challenges American popular opinion on Russian-American relations. "The simple reality," says Dr. Crosston, "is that there is a 'Cold War residue' that mentally still plagues too many decision-makers within both the Russian Federation and the United States."
In an age of "fake news" and "alternative facts," Russia Reconsidered is a refreshing presentation of unbiased, straightforward truths. From space to Syria, cyber warfare to failed diplomacy, Dr. Crosston and his contributors survey and share a wide variety of angles on Russian-American relations exhibited in seven different sections of Russia Reconsidered.
The book is broken up into a series of fast-paced articles and interviews, so it is not your typical academic read--though it certainly is just as informative as any textbook. Each essay offers a diverse perspective. Dr. Crosston's writing is personable and, at times, surprisingly funny.
National headlines claim that Russian-American relations are at an all-time low. Dr. Crosston's analysis of recent global events involving Russia and America sheds light on the trajectory of Russian-American relations. Dr. Crosston highlights the events that should have led to war but did not, in part due to the strategy of the countries' leaders. To name a few: America's "comprehensive sanctions after the Ukrainian affair," American "boots on the ground in Syria against Assad," Russia "intervening in the Maidan revolution," and of course, hacking scandals.
Dr. Crosston is an expert in his field. Having studied abroad in the agricultural region of Tambov during his undergraduate studies at Colgate University, Dr. Crosston witnessed a transformative moment in history that has influenced his passion for the post-Soviet space; Dr. Crosston arrived in the Soviet Union--on the day before the August coup of 1991, no less--and left from the Russian Federation. In Dr. Crosston's words: "When you acquire fluency in a foreign language while persevering through the dissolution of an empire, it tends to be a transformative moment that never weakens." Fast-forward past master's, doctoral, and postdoctoral studies, Dr. Crosston is the Professor of Strategic Intelligence and Global Security at the American Military University.
Andrey Kortunov, Director General of the Russian International Affairs Council, writes: "The book is a powerful argument against many oversimplified, black-and-white, one-sided interpretations of the current crisis between Russia and the West."
Russia Reconsidered has the potential to change the course of Russian-American relations; it offers new perspectives on a decades-old tension between two global powers in hopes to spark productive discussion and debate.
For more information or to order, please visit: http://www.RussiaReconsidered.com
About Brown Books Publishing Group (BBPG)
Founded in 1994 as an Entrepreneurial Publisher for Entrepreneurial Authors®, Brown Books Publishing Group was established to fill a need in the publishing world by allowing authors to have a voice in the publishing process while retaining the rights to their intellectual property. Applying this innovative Relationship Publishing™ model, Brown Books has cultivated a prestigious stable of authors, from New York Times bestsellers to Pulitzer Prize winners and more.. In 1994, Brown Books ushered in A New Era in Publishing™, and more than two decades later, continues to be a successful innovative leader in the publishing, book promotion, and book public relations industries. For more information, please visit http://www.BrownBooks.com.
About The Agency at Brown Books (ABB)
As a subsidiary of Brown Books Publishing Group, The Agency at Brown Books is backed by more than 20 years of publishing excellence, leveraged in the first full-service book public relations, book promotion, marketing, branding, and distribution provider within a publishing house. The Agency provides high-level public relations, marketing and distribution services for not only Brown Books authors, but also non-affiliated authors, all within the same house. For more information, please visit http://www.TheAgencyatBB.com.