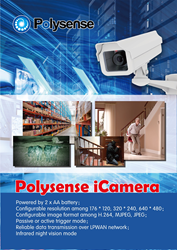 SANTA CLARA, Calif. (PRWEB) July 10, 2018
Polysense Technologies Inc., (Polysense) an innovation leader in LPWAN IoT solutions for fiber and wireless sensing, today announced the commercial availability of image and video capturing on its industry leading LoRa based WxS end node and iEdge computing platform with patented image and video analysis.
The Polysense WxS 8800 universal sensor node series incorporates LoRa® devices and wireless RF technology (LoRa Technology) from Semtech Corporation and LoRaWAN™ protocol from LoRa Alliance™. LoRaWAN supports low power, long ranges of 3km to 5km in NLOS (None Line of Sight) urban environments and over 15km reach in LOS (Line of Sight) open space environments.
With nine integrated internal sensors and connectivity for an external analog and digital sensor, the WxS 8800 enables a wide range of IoT applications.
"We have multiple customers requesting the image and video capturing capability for our widely used WxS IoT end node product line," said Alex Wu, President of Polysense. "We listened and responded with an image and video sensor that is low power, multiple modes of resolution, night vision capturing, and even image/video analysis. For example, an enterprise can install PIR in the conference rooms/labs to detect the presence of a person, and then take a picture."
Key Features

Ultra-low power for battery operation
Flexible choice of image and video resolutions from 176*120 to 640*480
Night vision mode
8MB of local storage, capable of storing up to 60 seconds of video segment or multiple picture images
Standard Image formats: H264/MJPEG/JPEG
Image and video analysis capability
Efficient local store and forwarding algorithm with frame retransmission mechanism
User controllable video capture via remote command or smart triggering from local sensor
"We have been using WxS sensor technology for several use cases including people and environmental monitoring and look forward to deploying these innovative feature enhancements " Said Nick Sacke, Head of IoT and Products at Comms365 (https://www.comms365.com), a leading IoT service provider based in the UK. "The unique combination of low power, night vision mode and smart sensor triggering can be valuable for many end user IoT applications and use cases across multiple vertical industries."
Now With the new image and video capture capability on WxS 8800, Polysense is now the only vendor that provides smart triggered capturing of event detections for applications such as asset protection, perimeter security, senior care where image and video are essential.
Availability
Polysense's WxS 8800 universal sensor node series is in production and immediately available for ordering. WxS 8800 is FCC/IC certified and iEdge is a trade mark of Polysense
Contact Polysense for ordering and pricing: kyang(at)polysense(dot)net
About Polysense
Located in Santa Clara, California, with offices in Beijing, Luo Yang and Shanghai, China, Polysense develops IoT products and solutions for smart enterprise, city and home, including distributed fiber sensing, LPWAN LoRa, NB-IoT/LTE CAT M and Wi-Fi/BLE based wireless IoT sensors and cloud based data management and analytics platform iView, and edge computing platform IEdge..
Polysense Press Contact: Katherine Yang
Email: kyang(at)polysense(dot)net
Phone: (408) 800 7728
Web: http://www.polysense.net/en/index.php