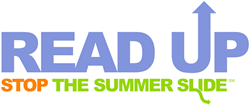 KENNEWICK, Wash. (PRWEB) July 10, 2018
The Children's Reading Foundation today announced the 11 communities where it will distribute a total of 24,900 books as part of its READ Up: Stop the Summer Slide℠ program.
Community-based chapters and libraries in six states will each receive between 1,000 to 4,000 children's books to distribute this summer. Areas awarded include Middlesboro, Kentucky; Buchanan County, Virginia; Newark, Ohio; Deming, New Mexico; Kennewick, Washington; Chelan, Washington; Quincy, Washington; Lacy, Washington; Lascassas, Tennessee; Cleveland, Tennessee; and Cookeville, Tennessee.
"It's important to keep families reading with young children every day when school is not in session," said Kristin Norell, foundation CEO. "Students who aren't reading during the summer can lose up to three months of literacy skills, this is known as the 'summer slide."
READ Up is the foundation's summer literacy program. The program helps keep reading as part of daily summer routines by providing free books, reading activities, and take-home materials for children birth to 8. Participating organizations host book give-a-ways where children and families naturally gather in the summer such as parks, libraries, summer feeding programs, and other planned events through libraries or other community partners.
About The Children's Reading Foundation: The national nonprofit was founded in 1996 with the vision that every child learns to read at grade level by the end of third grade, thereby reaching his or her full potential in school and life. The foundation delivers national programs focused on reading skills and school readiness for children birth to age 8. The Children's Reading Foundation helps establish local chapters in communities across the country. The headquarters are in Kennewick, Wash. Learn more at ReadingFoundation.org.