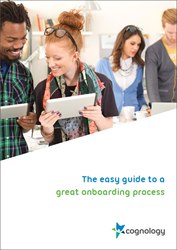 It makes sense to automate induction tasks.
MELBOURNE, Australia (PRWEB) July 13, 2018
Cognology have released a new whitepaper 'The Easy Guide to a Great Onboarding Process'. The whitepaper was developed in recognition of a need to help companies retain new talent and stop employee exodus. Detailing common myths about induction and onboarding, the whitepaper explains how to determine requirements, why companies need to tailor to the job and individual and how technology supports successful onboarding.
Effective induction and onboarding has been proven to reduce turnover and increase the likelihood employees will remain in the long term. Coupled with the fact that 20% of employees that decide to leave will do so in the first 45 days, Human Resources personnel need to offer a new hire experience that supports and encourages 'noobs' to get up to speed quickly… and stay.
'Induction' and 'Onboarding' refers to the knowledge, skills, and behaviours a person needs to acquire in order to become an effective new member of the team.
Jon Windust, CEO of Cognology said 'it makes sense to automate induction tasks' and 'freeing up your desk of highly repetitive induction tasks such as sending, collecting, storing and updating employee information means you'll spend less time processing, and more freedom to focus on your people'.
Cognology's Induction and Onboarding software promises a different kind of Onboarding experience designed to keep accurate employee files, automate workflows and create a great first impression. Together with a SmartDesigner and Unique Form Creation - people can do more in fewer steps.
Cognology is an Australian company pushing the boundaries on software for the future of work. The company helps more than 250 customers with cutting edge people management strategy. Their talent management suite including employee onboarding, performance and learning software.
The whitepaper is available by now by clicking the link in this article or by visiting the Cognology website.