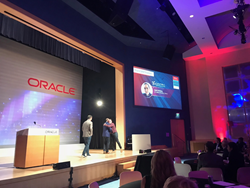 NEW YORK (PRWEB) July 07, 2018
This award recognizes Cintra's successful delivery of a complex, business-critical cloud transformation at a large global enterprise, under an Oracle MSP contract. The program saw Cintra move and improve key business systems to the Oracle OCI Cloud, using the Cintra RapidCloud methodology to deliver a working production system in just 90 days.
As a result of Cintra's work, the customer has been able to reduce its legacy on-premises footprint and significantly improve performance and services levels around the now cloud-based systems.
Cintra is one of only a small number of organizations on Oracle's highly prestigious Global Cloud Managed Services Provider (MSP) program.
Cloud pioneer
Steve Wyper, Vice President of Sales at Cintra, said: "We're delighted to be recognized by Oracle as a pioneer in the cloud MSP space. We have invested a lot in our RapidCloud transformation methodology, and projects like this one show just how quickly we can take our customers' strategic enterprise applications to the Oracle Cloud.
"By working with Cintra through the Oracle Global Cloud MSP program, this customer benefited from being able to procure our award-winning cloud architecture and delivery expertise and its Oracle Cloud solutions under a single Cintra contract. This simplified and accelerated the purchasing cycle, and meant the customer has been able to achieve the cost and performance benefits of the cloud much faster."