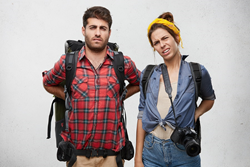 "When starting any new exercise routine, and hiking is exercise, it is important to remember to start slow and go for an easy hike on your first day out." –Dr. Seaney
CUMMING, Ga. (PRWEB) July 07, 2018
Summer is back and it's time to plan more hiking trips. Forsyth Spinal Rehabilitation in Cumming and Alpharetta can help people avoid injury by going over the top 3 tips for hikers back pain and other injuries.
According to the Centers for Disease Control and Prevention, there are over 12,000 registered miles of trails in America's National Parks (cdc.gov, 2015). So put on your hiking boots, wash your canteen backpack, and start scoping out some trails you've wanted to explore.
If you live in Georgia like we do at Forsyth Spinal Rehabilitation in Cumming and Alpharetta, then you should know that one of the longest trails in the United States is the Appalachian Trail, which starts in Georgia and ends in Maine at Mt. Katahdin in Baxter State Park.
Hiking is a great idea to get some exercise, and our chiropractor, Dr. Shawn Seaney DC, recommends regular exercise, as it gives you a chance to enjoy the beauty of nature. However, if you haven't been out for a long hike in a while, Dr. Seaney has a few things to remember before hitting the trails to help you avoid injury.
If you've been injured in a hiking accident, Forsyth Spinal Rehabilitation may be able to help you recover from your injury. Call (770)888-9265 to schedule an appointment with Dr. Seaney today. You may also visit us online for appointments.
At Forsyth Spinal Rehabilitation in Cumming and Alpharetta, we are genuinely concerned about your wellbeing, which is why we put together a list of hiking tips that may be able to help you stay safe and healthy while you embark on your short adventure into nature.
#1 Wear Good Shoes
"Wear proper shoes and if you are planning on wearing a backpack be sure it is fitted properly and do not over load it because that could lead to a low back injury." –Dr. Seaney
The most important part of your gear is probably your shoes. The most ideal shoe to wear is a comfortable hiking boot that supports your ankles and provides adequate support. Tennis shoes are designed for solid and smooth surfaces, so they don't do so well on rocks, dirt, or trees, especially, when you are carrying extra weight. So be sure to choose a good hiking book for proper support. Walking long distances with the wrong shoes can leave you with blisters and other aches and pains such as sore muscles, back pain, and leg pain.
#2 Stretch Before Hiking
"It is also important to warm up your muscle and stretch prior to your start." –Dr. Seaney
Stretching is a really important part of exercise. Before you go on a long hike, be sure to prepare your body for the long walk by stretching the muscles to get loose and warm. At Forsyth Spinal Rehabilitation in Forsyth, we see people come in with leg and low back injuries from over exertion that could have been prevented with simple stretches. In your stretch, be sure not to over extend your stretch. Next you will want to hold your stretch for at least 20 seconds. The most popular stretches will help the hamstrings, quads, hips, and calves.
#3 Take It Slow
"When starting any new exercise routine, and hiking is exercise, it is important to remember to start slow and go for an easy hike on your first day out." –Dr. Seaney
If this is the first hike you've gone on in a few months or ever, then you will want to take it slow especially if you don't exercise very often. Injuries happen when a person pushes themselves too hard and pushing hard for whatever reason during a hike is common. Be sure to go at your own pace. Walk with someone who understands that you don't normally go for hikes. More importantly, go with someone who knows the trail and can guide to less difficult trails.
Before you venture out into the beautiful world of nature for a bit of exercise, be sure to take good care of your self by wearing proper hiking shoes, stretching, and taking it slow. If injury should come upon you, be sure to give us a call so we can help you recover and get back on the trails.
Dr. Shawn Seaney DC, is available to uplift, strengthen and offer a better quality of life to each person that comes into the office. Call (770)888-9265 or visit us online to schedule an appointment with Dr. Seaney today.
Enjoy your hiking adventure and be safe!