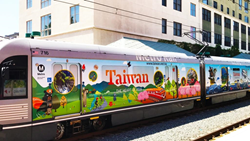 LOS ANGELES (PRWEB) July 06, 2018
Taiwan Tourism Bureau partnered up with the Los Angeles Metro Rail System and launched a creative promotion to inspire Taiwan travel. Between July 2nd to December 16th, a total of two trains on the popular Metro Gold Line and Expo Line are transformed into the Taiwan tourism themes of Bay Tourism, Ecotourism/LOHAS (Lifestyle of Health and Sustainability), Culture and Cuisine; the Oh!Bear mascot is featured to be traveling on the Bureau's flight partner, China Airlines.
"Ilha Formosa! Taiwan: Beautiful Island!" is the lovely name given by Portuguese sailors during maritime exploration. Mr. Abraham Chu, Director General of the Taipei Economic and Cultural Office in Los Angeles expressed, "Taiwan's rich culture and unique traditions have merged from its inhabitants throughout history: from prehistoric humans and indigenous tribes, to the Dutch, Spanish, Japanese, and Han Chinese. Situated at the meeting point between the Eurasian Plate and the Philippine Plate, the continuous tectonic movements in Taiwan created a complex and ever-changing geographical landscape. With the Tropic of Cancer cutting across Taiwan, the diverse climatic conditions range from tropical to frigid temperature, allowing a variety of ecosystems to thrive, including over 400 butterfly species and over 680 bird species. Taiwan has about 18,400 recorded wildlife species; among them, there are more than 20% species and subspecies native to Taiwan, such as the Formosan Landlocked Salmon, Formosan macaque, Formosan black bear, and Taiwan blue pheasant, making Taiwan the epitome of ecosystems in the Northern Hemisphere."
"The overall Metro train wrap design is based upon 'Tourism 2020 - A Sustainable Development Strategy for Taiwan' to strengthen Taiwan's image as a destination," says Mr. Brad Shih, Director of Taiwan Tourism Bureau Los Angeles Office. Through vibrant illustrations and images, one side of the promotional vehicles highlight Taiwan's offshore islands' beauty, like the Penghu's Twin-Hearts Stone Weir, Xiaoliuqiu's coral reefs and green sea turtles. They also showcase the Alishan Forest Railway and Taroko Gorge's magnificent mountain scene to introduce Taiwan's cycling and adventure fun. The collective illustration painted a vivid imagery for everyone to discover Taiwan's nature and ecotourism; it aims to intrigue travelers' interest in green and sustainable tourism while indulging in relaxing vacations.
Taiwan's local culture and gourmet cuisine are the themes on the other side of the illustrated train wrap:
Iconic attractions like Pingxi Sky Lantern Festival, Yulin Matsu Pilgrimage, and the Hakka craft of Meinong paper umbrellas take the spotlight; it is a preview of the "2019 Year of Small Towns" that celebrates traditional local customs. As food adventures are essential while visiting Taiwan, night markets and specialty foods like mango shaved ice, pineapple pastry and beef noodle soup on the train wrap will sure to entice one's appetite. With a new list of Taipei Michelin-starred restaurants and recommendation published earlier this year, Taiwan's already exciting food scene will sure to garner even more international tourists' interests.
The Bureau's flight partner, China Airlines, offers nonstop flights daily from Los Angeles (LAX) and Ontario (ONT) to Taipei (TPE). A special offer is available for passengers to depart after August 1st from Ontario to Taipei, with fares starting at $668! Please visit http://www.china-airlines.com for more details, or call China Airlines Customer Service at 1-800-227-5118.
A great selection of rail tour packages are available from Taiwan Tourism Bureau's partner tour operators – Allstate Travel, AMERICA ASIA Travel Center, Majestic Vacations, SITA World Tours, Sonic Tour, Super Value Tours, and XO Tours. Traveling to Taiwan by sea is another excellent way to enjoy your journey. The Princess Cruise arrives at the Port of Keelung where seafood feasts and shore excursions around Taipei await.
To receive the latest promotional event and travel information, please like the Taiwan Tourism Bureau's official Facebook page at http://www.facebook.com/TourTaiwan. Starting July 16 th to August 16th , Taiwan Tourism will host an online giveaway sponsored by China Airlines and MyTaiwanTour. Don't miss the chance to win two Ontario to Taipei round trip tickets!