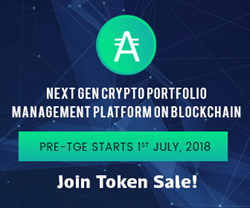 AMSTERDAM (PRWEB) July 14, 2018
Bitcoin Press Release:Asset Allocation Token (AAT) Pre-Token Generation Event went live on July 1, 2018, two days after the official start to its bounty program.
AAT Network has announced the launch of its token presale and accompanying bounty program to raise the necessary funds and build a strong community following respectively. The token presale started on July 1, 2018 will go on for the duration of one month, before the beginning of main TGE, which will go live on August 5, 2018. The AAT bounty program started a couple of days before the token pre-sale, on June 28, 2018.
The ongoing token presale offers participants an opportunity to purchase the platform's native token-- AAT at a 20% discount. AAT is an ERC20 standard utility token that can be used for availing discounts and services offered on the platform. With AAT listed on leading exchanges soon, users can also trade them in the open crypto-market against other crypto or fiat currencies.
AAT Network has set a maximum cap for the tokens ar 45 million, of which 4 million AATs were sold at 50% discount during the closed group sale. The ongoing token presale (Pre-TGE) will have 6 million tokens at 20% bonus, while the main TGE will offer 17 million AATs on sale at no bonus. The remining tokens are set aside as promoters' quota. The price of each AAT is $0.90 without any bonus.
The soft cap for AAT TGE is fixed at $5 million and the hard cap at $27 million. Participants in the token sale will have to register on the platform and make a minimum purchase amounting to $100.
AAT Bounty Program
The AAT Bounty Program has a wide range of activities for the community members, with a total reward of $135,000 (150,000 AAT). The bounty reward is divided between Twitter (15%), Facebook (15%), Telegram (10%), Signature (20%), Blog/Video (20%) and Translation (20%) campaigns.
With lots of easy tasks in store, participants in the bounty program can earn AAT tokens as reward by contributing towards the growth of AAT community, without having to make the actual purchase. Detailed information about the AAT Bounty Program is available on the platform's BitcoinTalk announcement.
About AAT Network
AAT Network is a comprehensive crypto-asset portfolio management solution that offers users a smart and easy way to manage all their ICOs and cryptocurrency investment portfolios from a single platform. The platform offers a range of tools and professional expertise needed for efficient management of these assets.
AAT Network is the source of this content. Virtual currency is not legal tender, is not backed by the government, and accounts and value balances are not subject to consumer protections. Cryptocurrencies and tokens are extremely volatile. There is no guarantee of a stable value, or of any value at all. Token sales are only suitable for individuals with a high-risk tolerance. Only participate in a token event with what you can afford to lose.